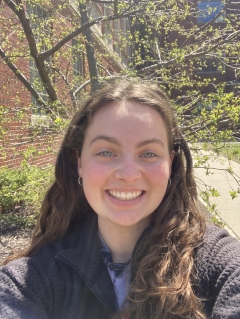 Ashton Prairie Research Assistant
Kobie is a second year student, majoring in Environmental Science on the biosciences track. Kobie is passionate about sustainability because she believes it is necessary to preserve nature and the outdoors for generations to come. Prioritizing sustainability is a great way for Kobie to give back to her community and live in a way that aligns with her values.
Currently at the Ashton Prairie site, Kobie is collaborating on projects related to water quality, plant identification, and groundwater data. Kobie's team is preparing for the summer when the prairie plants will be in full bloom. They will have the opportunity to evaluate the state of the prairie and what species live there. Additionally, they are acquiring baseline data for the stream near Ashton Prairie called Cardinal Creek, evaluating the health of the stream in order to be able to get a better idea of the stream's status in the summer when they can survey for all the critters and fish that live there! Kobie's work helps us get a better understanding of how the surrounding communities are impacting the Ashton Prairie site.