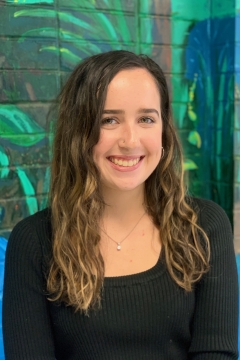 My background: I'm a third-year communication studies major with a certificate in entrepreneurial management and a minor in French. My love for sustainability grew when I volunteered at Habitat for Humanity in high school and recognized the importance of reusing and recycling. Although I'm not pursuing a certificate in sustainability, I have taken a few environmental courses here at the university which have expanded my knowledge about the environment. Outside of the office, I'm the president of the Future Communication Professionals (formerly the Communication Studies Students Association).
 
Why I'm passionate about sustainability: Earth's resources are diminishing at a quick rate which makes the future ahead of us look very dull. We are responsible for making sure our precious home is able to survive by doing everything we can to reduce the amount of waste we produce by creating sustainable habits. Future generations deserve the chance to live in a world free of emissions and we need to allow them the opportunity to innovate and create new ideas just like we did.
  
Contact me about: Getting yourself, your department, or your student org involved with our office, and promoting and/or creating sustainability-related events.