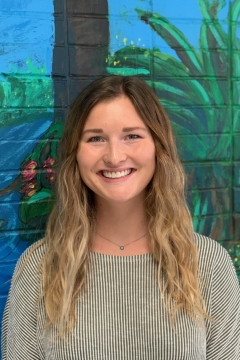 My background:
Zoë is from Ames, Iowa, but Iowa City quickly converted her into a Hawkeye! Zoë served as an Orientation Leader the summer after her first year of college. She worked in the restaurant industry for six years and the best part about her job was the people: both her coworkers and the customers. Zoë served as the Sustainability Chair of Alpha Kappa Psi and started a precedent of compostable plates at all fraternity events. She also invited Silvia Secchi to speak to the chapter about sustainability in business. This past summer, she studied abroad in Argentina and learned about their public health system. Zoë currently serves as the Finance Committee Chair for UISG and the Vice President for Tippie Business Honor Society. 
Why I'm passionate about sustainability: 
As a business student, I recognize the large impact businesses can have on our environment and I look for opportunities to encourage peers to consider environmental sustainability in their future careers. I'd like to break down the barriers to sustainability and help people realize that small changes are still changes. 
Contact me for information about: 
Getting yourself, your department, or your student org involved with our office, and promoting and/or creating sustainability-related events.