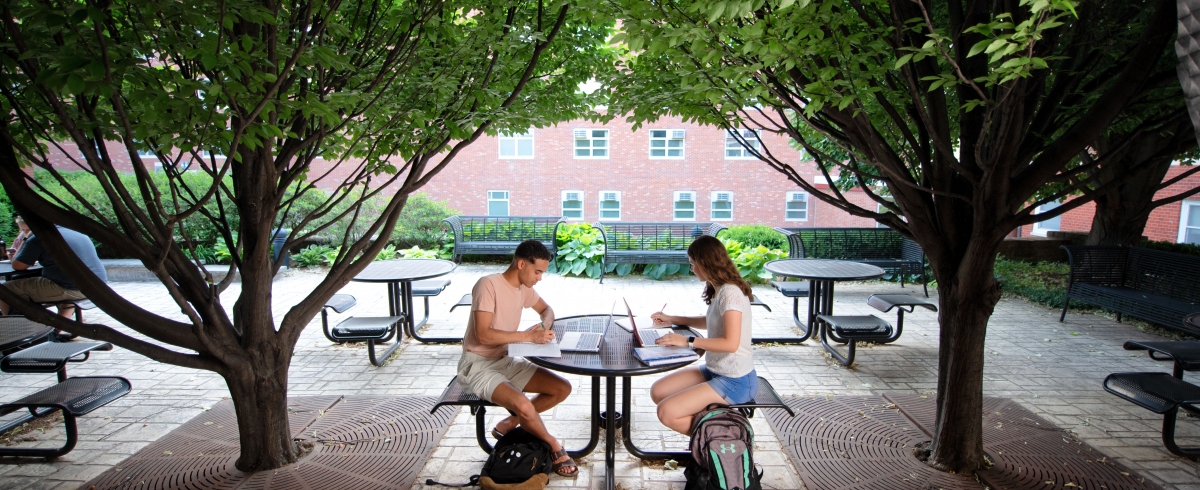 Check out sustainability-oriented classes at the University of Iowa!
The University of Iowa's sustainability-focused academic programs gave me the tools and experience to tackle some of the world's most pressing challenges!

Emily Manders
The University of Iowa offers over 400 classes that teach sustainability-related topics! Some of the academic departments that provide these classes, from geoscience to social justice to business, are listed below.
---
---
---
The Latham Science Engagement Initiative and Fellowship Program is geared toward undergraduate students interested in communicating science to the general public and how it impacts our daily lives. Students will actively participate in collaborative science outreach opportunities that engage our community in thinking about science through both individual and group projects.
---
This program builds upon the humanities, social sciences, and health sciences to help students better understand the underlying forces--such as history, culture, gender and sexuality, economics, politics, race and ethnicity, the environment, law, and technology--which lead to health disparities both locally and worldwide. Students learn about the complex factors influencing health and disease locally and around the world.
---
This program approaches social justice through the arts, history, literature, comparative religious studies, political science, philosophy, health education, and gender, women's & sexuality studies. Students who major in social justice expand their knowledge, integrating theory and engagement with "real world" field experiences.
---
This program covers many aspects of environmental protection: air pollution control, industrial hygiene, radiation protection, hazardous waste management, toxic materials control, water supply, wastewater management, storm water management, solid waste disposal, public health, and land management.
---
Business students can weave sustainability issues throughout their studies as well as a develop their own sustainable business model.  Both  undergraduate and graduate programs offer courses that focus on addressing global challenges to business, society, and the environment.
---
There are also several graduate programs related to sustainability:
The Sustainable Water Development Graduate Program is training new generation of water sustainability professionals to address the tangle of water, food and energy challenges facing resource-limited communities, which include rural, often agricultural based communities, as well as poor urban centers and developing countries.
The School of Urban and Regional Planning addresses important social justice and environmental issues. Areas of specialization include economic development, land use and environmental planning, housing and community development, geographic information systems (GIS), and transportation.
Through the Iowa Initiative for Sustainable Communities, students in the School of Urban and Regional Planning participate in sustainability research and outreach projects for various Iowa communities. One such project is the award-winning Sustainability Progress Report for Dubuque, Iowa. Over the course of the project, students developed a set of 60 specific indicators to help the city benchmark and track the progress of its 11 sustainability initiatives. This research was not only ground-breaking, but allowed the city to use the students' recommendations to improve its sustainability plans.