Events for the week of February 14th
Primary tabs
February 17, 2021 - 9:30am
Rachel Larson and Brandon MacDougall, PhD students from Geography, will discuss their wildlife research.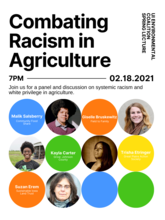 February 18, 2021 - 7:00pm
The University of Iowa Environmental Coalition would like to invite you to our lecture panel Combating Racism in Agriculture. We are very excited to host such a diverse group of panelists to discuss intersectionality, white privilege and systemic racism in agriculture. This online event will be held on Thursday, February 18th at 7PM. Following an introduction of the panelists, a discussion will be held in which audience members are invited to ask questions and further consider the topics of...