Events for the week of October 10th
Primary tabs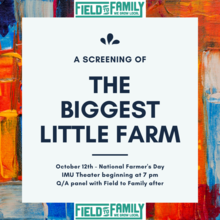 October 12, 2021 - 7:00pm
Join the Office of Sustainability and Field to Family in a screening of the 2018 documentary "The Biggest Little Farm" on Tuesday, October 12, 2021. A screening of the film will start at 7:00 pm, and a Q and A panel discussion with members of Field to Family, a group of local food coordinators, will follow the screening.  This event will be in the Big Ten Theater at the IMU....
October 16, 2021 - 7:30am
The Iowa City Farmers Market is managed by the Iowa City Parks and Recreation Department. It is an open-air market held in the Chauncey Swan parking ramp, Chauncey Swan Park, and on E. Washington St. in downtown Iowa City from May through October. They strive to serve culturally and economically diverse populations by providing access to fresh, locally produced products.