Events for the week of July 3rd
Primary tabs
July 6, 2022 - 2:00pm
All are invited to a panel discussion about our campus prairie, the Ashton Research Prairie, featuring: Mike Fallon, Earth and Environmental Sciences Instructor Andrew Forbes, Associate Professor of Biology Stratis Giannakouros, Director, Office of Sustainability and the Environment Light refreshments provided. Free & open to the public.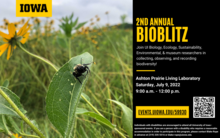 July 9, 2022 - 9:00am
What types of plants, animals, and fungal life might you find at the Ashton Prairie Living Laboratory? Let's find out! ...