2020 Vision - UI's First Set of Campus Sustainability Goals
Goals for the Future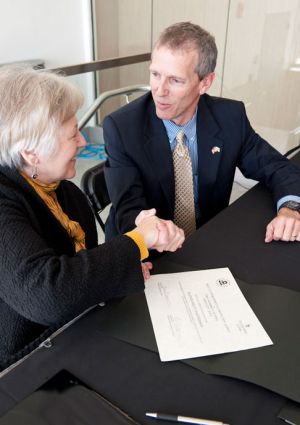 In her 2008 Earth Day speech, President Mason challenged the University community to integrate sustainability deeply into our learning, discovery, and outreach missions. Similar calls for an increased focus on sustainability in University operations and academic activities were issued by the UI Faculty Senate, the Board of Regents, and Governor Chet Culver. The University's new strategic plan, "Renewing the Iowa Promise: Great Opportunities – Bold Expectations," identifies sustainability as both a foundational commitment and a key strategic initiative. The University of Iowa has set the following sustainability targets to be met on or before December 31, 2020.
See details in the complete 2020 Vision document, available in PDF (download)
See our final report showing progress towards meeting our 2020 goals.
---
2020 Campus Sustainability Goals
1. Achieve Net-Negative Energy Growth
The UI will employ energy conservation efforts, build LEED facilities, modernize aged building systems and nurture a culture of conservation to reach the goal of consuming less energy on campus in 2020 than consumed in 2010 despite projected growth.
2. Green Our Energy Portfolio
The UI will pursue a renewable energy supply strategy that optimizes long-term supply and fuel price stability while preserving an ability to test and take advantage of other potential fuels. As we transition from our dependency on fossil fuels, we will increase the use of biomass, geothermal, solar, wind, landfill gas, gasification and other emerging energy alternatives to achieve the goal of 40% renewable energy consumption on the campus by 2020.
3. Decrease Our Production of Waste
The UI will foster a culture oriented to reducing waste, increasing recycling, facilitating composting of organic waste, and enhancing green purchasing practices to achieve our goal of a 60% waste diversion by 2020.
4. Reduce the Carbon Impact of Transportation
The UI will seek ways to reduce the vehicle miles traveled by single occupant vehicles, employ increasingly efficient fuels and technologies, improve the greenhouse gas efficiency of vehicles operated by employees and students, and seek net reductions and/or offsets in University-related air travel with the goal of achieving, by 2020, a 10% reduction in per capita emissions of fossil fuel-produced CO2 from University-related transportation and travel.
5. Increase Student Opportunities to Learn and Practice Principles of Sustainability
The UI will provide students with educational opportunities that elevate their knowledge of and problem-solving skills in environmental, social, and economic sustainability. These opportunities will include career-related certificate and/or degree programs, internships, and sustainability-related research experiences. Sustainable practices will be incorporated into student campus activities, living and learning centers, food service, and health and wellness. A student sustainability activity fund will be created to support these efforts. To build leadership for a sustainable world, interdisciplinary internships for students will be increased. To promote the understanding of sustainability principles through the study of natural systems, the UI will enhance natural history activities and sustainability programming.
6. Support and Grow Interdisciplinary Research in Sustainability-Focused and Related Areas
The UI will pursue international prominence in water sustainability education and research by supporting interdisciplinary research, teaching, and service on issues of water availability, water quality, the economic and health impacts of floods, flood control, water conservation, rural economic development, and the linkages between emerging water resource issues and global climate change. The UI will work to increase awareness in Iowa about the shared value of Iowa's water resources and the impacts of land use in river watersheds. The water resource principles developed through sustainability research programs will be adapted where applicable to the UI campus and its operations.
7. Develop Partnerships to Advance Collaborative Initiatives, Both Academic and Operational
The UI will continue to create and nurture partnerships with communities, businesses, government agencies and other educational institutions with the goal of understanding and meeting the ever-increasing need for environmental, social and economic sustainability. In particular, the UI will work individually and collaboratively with Iowa businesses and community colleges to meet the demands of supporting the workforce and economic development needs of green industries in Iowa. 
---

Sustainability must and will become a central priority of all aspects of our university enterprise—our operations, our academic mission, and our responsibilities to the greater society.
President Sally Mason, Earth Day 2008
---
Updating the 2020 Goals for 2030 and Beyond
In 2019, spurred in part by calls from students voiced through shared governance resolutions, a process of internal deliberation was set in motion to develop an updated set of goals appropriate for 2030 and beyond.
Several ad-hoc task forces were established in the Fall of 2019 by Senior Vice President for Finance and Operations, Rod Lehnertz. One task force was the "2030 UI Sustainability Goal Setting" task force, chaired by the Director of the Office of Sustainability and Environment (Stratis Giannakouros). The task force met in late 2019 and early 2020, with representation from faculty, students, and staff. Task force members were encouraged to solicit ideas and feedback on the 2030 goals from interested parties in their respective stakeholder groups.
While Vision 2020 focused mainly on issues actionable by the UI Facilities group and the Office of Sustainability, our task force realized that 2030 Sustainability Goals need a shared commitment and shared action from across the entire University – touching units engaged in activities ranging from academics, research, operations, planning, engagement, athletics, and student life. Because of the broad and deep intersection with the University mission and community, the task force recommended an extended period for campus dialogue, with an initial phase culminating in a phase-one release on Earth Day (April 22) 2020, and a release of phase-two by year's end.
UI 2030 Sustainability Goals Framework (Revised April 30, 2020)
Download the PDF version of the Goals Framework here.
 1.  Reduce greenhouse gas emissions by 50% compared to 2010 baseline and continue to pursue a renewable energy supply strategy
The UI will continue to pursue greenhouse gas emissions (GHG) reductions and a renewable energy supply strategy aligned with science-based targets. The campus will have a comprehensive decarbonization plan employing best practices and aggressive energy conservation efforts.
2.  Institutionalize and embed sustainability into campus culture
The UI will establish sustainability goals that promote a culture of sustainability and reduce negative environmental and social impacts of campus operations.  Each unit on campus will develop a plan to meet the campus sustainability goals.
 ​​​3.  Expand sustainability research, scholarship and solutions opportunities
The UI will develop goals to build the capacity for students and researchers across campus to work on sustainability grand challenges of the 21st century. The goals will encourage use-inspired, interdisciplinary research.
4.  Use our campus as a Living Laboratory for sustainability education and exploration
The UI will develop goals to increase opportunities for students and researchers to use the UI campus as an educational and research laboratory for improvement of campus sustainability and ecosystems.
5.  Prepare students to live and work in the 21st century through sustainability education
The UI will develop goals to raise sustainability literacy as a universal outcome and to develop the capacity for students to graduate with an appreciation for and ability to apply sustainable practices.
6.  Facilitate knowledge exchange among the campus community and the State of Iowa, Nation and World
The UI will develop goals to grow sustainability outreach and engagement; these will feature partnerships and community-engaged education and research.
---
Principles underpinning the 2030 goals
The following principles are fundamental to the 2030 Sustainability Goals:
Campus sustainability efforts require collective action within all parts of the University, and across all campus missions – including, but not limited to, Research & Discovery, Student Success, and Engagement. This needs to include the University of Iowa Hospitals and Clinics, campus planning, and outward-facing units such as Athletics and Admissions.

Units need the appropriate space to identify how they can contribute to the campus-wide goals with actions that align with their specific missions and strengths.

In forming unit-specific sustainability action plans, units need training, technical support, and advice from centralized groups such Facilities and the Office of Sustainability and Environment to draft achievable unit goals.

UI 2030 Sustainability goals, strategies, critical tasks, and metrics need to be flexible. They need to accommodate new information and conditions such as scientific findings, policy changes, energy market shifts, and higher education trends over the 10 year period of the Goals.

UI 2030 Sustainability goals should be periodically reviewed and updated. Our recommendation is for a review every five years, conducted by the Sustainability Charter Committee.

 Independent third-party review of campus sustainability is required.
---
Goal Setting Process
Phase One: Draft goals and campus feedback
Phase one included measurable goals and metrics only in the areas of renewable fuels and GHG emissions. Feedback on these goals and strategies were solicited through open processes (web feedback collection, in person forums) and through dialogue with key stakeholder groups.  
Information about the phase one public forums (listening posts) and web feeback collection is here: 
The UI's 2030 Sustainability Goals Subcommittee will be gathering feedback from UI community faculty, staff and students on the UI's 2030 Sustainability Goals. This session will include a presentation by the 2030 Sustainability Goals Subcommittee, open discussion, and feedback gathering.  There will be two opportunities to attend the listening posts and weigh in on the draft 2030 Sustainability Goals. They are on:

Monday February 17, 2020 from 6-7 pm in 140 SH; and  
Tuesday February 18, 2020 from 3:30-4:30 pm in 140 SH

The events are listed on the UI Events calendar: https://events.uiowa.edu/34277 and  https://events.uiowa.edu/34276.  The draft Goals will be posted in early February on the Office of Sustainability and the Environment website. 

For those who cannot attend, please submit suggestions and comments for the Subcommittee via Qualtrics here: https://uiowa.qualtrics.com/jfe/form/SV_1MrCsPWaJwmh3Mx.
Feedback from these listening posts were gathered, compiled, and organized by Office of Sustainability and the Environment staff. The feedback is listed on this document. Click here to see campus feedback.
Phase Two: Draft Expansion Into Metrics
In phase two, phase one's goals and strategies will be extended to include critical tasks and metrics.  It will also go through review by shared governance bodies during the Fall 2020 semester (see for example the differences between goals, strategies, critical tasks, and metrics in the University of Iowa Strategic Plan).
Timeline
To reiterate, the timeline for stakeholder input, shared governance feedback, and full adoption of comprehensive 2030 Sustainability Goals is proposed as follows:
February – March 15, 2020: Open comment period on this phase-one draft (UISG, GPSG, Staff Council, Faculty Senate, Council of Deans, President's Office, Finance and Operations, P3 Partner, and Provost's Office). One or more open forums to occur.
March 31, 2020: Revision of the phase-one draft by the task force, in response to the comments received. Transmittal to the Sustainability Charter Committee and Senior Vice President for Finance and Operations.
May, 2020: Public release of the phase-one plan, in the form of "2030 Sustainability Goals."
Summer 2020: Task force completes a 1st draft of the phase-two document, including critical tasks and metrics.
August - October 2020: Formal consideration of phase-two plan by shared governance bodies and other stakeholders during the Fall 2020 semester.
November, 2020: Revision of phase-two plan based on shared governance feedback.
November, 2020: Transmittal from the task force to the Sustainability Charter Committee and Senior Vice President for Finance and Operations
---
UI Campus-Wide Shared Governance Bodies
Undergraduate Student Government                      
UI Graduate and Professional Student Government
UI Staff Council                                                             
UI Faculty Senate
---
The 2030 Sustainability Goals Task Force Members
Those campus partners enlisted to assist in this document are listed here:  
Stratis Giannakouros, Director of the Office of Sustainability and the Environment 
Michelle Scherer, Professor in Civil and Environmental Engineering  
Charles Stanier, Professor in Chemical and Biochemical Engineering  
Richard (Ty) Priest, Associate Professor in History and Geography  
Erin Irish, Associate Professor in Biology and Co-Chair of the Presidential Sustainability Charter Committee  
Matthew Hill, Associate Professor in Anthropology 
Jerry Schnoor, Professor in Civil and Environmental Engineering 
Dave Bennett, Professor in Geographical and Sustainability Sciences 
Andrew Forbes, Associate Professor in Biology 
Rakesh Sondekoppam Vijayashankar, Clinical Associate Professor of Anesthesia 
Ben Fish, Associate Director of Utility Operations  
Sara Maples, Manager of Research Support and Sustainability in Tippie College of Business 
Nicholas Benson, Executive Director of the Office of Outreach and Engagement  
Elizabeth MacKenzie, Recycling Coordinator in the Office of Sustainability and the Environment 
Blake Rupe, Sustainability Program Manager in the Office of Sustainability and the Environment  
Noel Mills, UI Student Government  
Thomas Pak, Vice President of Graduate Student Government  
Julia Krist, Project Lead in the Office of Sustainability and the Environment
Hunter Staszak, Project Lead in the Office of Sustainability and the Environment
Emily Manders, UI Student Government 
Connor Wooff, President of UI Student Government 
For more information, contact the Office of Sustainability and the Environment at sustainability@uiowa.edu.