2020 Vision - The University of Iowa's Sustainability Targets
Goals for the Future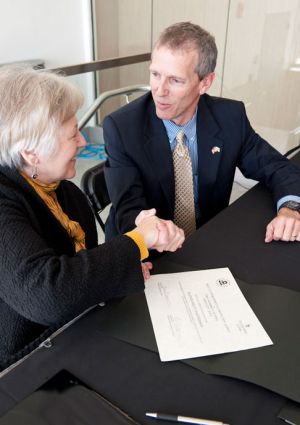 In her 2008 Earth Day speech, President Mason challenged the University community to integrate sustainability deeply into our learning, discovery, and outreach missions. Similar calls for an increased focus on sustainability in University operations and academic activities were issued by the UI Faculty Senate, the Board of Regents, and Governor Chet Culver. The University's new strategic plan, "Renewing the Iowa Promise: Great Opportunities – Bold Expectations," identifies sustainability as both a foundational commitment and a key strategic initiative. The University of Iowa has set the following sustainability targets to be met on or before December 31, 2020.
See details in the complete 2020 Vision document, available in PDF (download)
See our final report showing progress towards meeting our 2020 goals.
---
1. Achieve Net-Negative Energy Growth
The UI will employ energy conservation efforts, build LEED facilities, modernize aged building systems and nurture a culture of conservation to reach the goal of consuming less energy on campus in 2020 than consumed in 2010 despite projected growth.
2. Green Our Energy Portfolio
The UI will pursue a renewable energy supply strategy that optimizes long-term supply and fuel price stability while preserving an ability to test and take advantage of other potential fuels. As we transition from our dependency on fossil fuels, we will increase the use of biomass, geothermal, solar, wind, landfill gas, gasification and other emerging energy alternatives to achieve the goal of 40% renewable energy consumption on the campus by 2020.
3. Decrease Our Production of Waste
The UI will foster a culture oriented to reducing waste, increasing recycling, facilitating composting of organic waste, and enhancing green purchasing practices to achieve our goal of a 60% waste diversion by 2020.
4. Reduce the Carbon Impact of Transportation
The UI will seek ways to reduce the vehicle miles traveled by single occupant vehicles, employ increasingly efficient fuels and technologies, improve the greenhouse gas efficiency of vehicles operated by employees and students, and seek net reductions and/or offsets in University-related air travel with the goal of achieving, by 2020, a 10% reduction in per capita emissions of fossil fuel-produced CO2 from University-related transportation and travel.
5. Increase Student Opportunities to Learn and Practice Principles of Sustainability
The UI will provide students with educational opportunities that elevate their knowledge of and problem-solving skills in environmental, social, and economic sustainability. These opportunities will include career-related certificate and/or degree programs, internships, and sustainability-related research experiences. Sustainable practices will be incorporated into student campus activities, living and learning centers, food service, and health and wellness. A student sustainability activity fund will be created to support these efforts. To build leadership for a sustainable world, interdisciplinary internships for students will be increased. To promote the understanding of sustainability principles through the study of natural systems, the UI will enhance natural history activities and sustainability programming.
6. Support and Grow Interdisciplinary Research in Sustainability-Focused and Related Areas
The UI will pursue international prominence in water sustainability education and research by supporting interdisciplinary research, teaching, and service on issues of water availability, water quality, the economic and health impacts of floods, flood control, water conservation, rural economic development, and the linkages between emerging water resource issues and global climate change. The UI will work to increase awareness in Iowa about the shared value of Iowa's water resources and the impacts of land use in river watersheds. The water resource principles developed through sustainability research programs will be adapted where applicable to the UI campus and its operations.
7. Develop Partnerships to Advance Collaborative Initiatives, Both Academic and Operational
The UI will continue to create and nurture partnerships with communities, businesses, government agencies and other educational institutions with the goal of understanding and meeting the ever-increasing need for environmental, social and economic sustainability. In particular, the UI will work individually and collaboratively with Iowa businesses and community colleges to meet the demands of supporting the workforce and economic development needs of green industries in Iowa. 
---

Sustainability must and will become a central priority of all aspects of our university enterprise—our operations, our academic mission, and our responsibilities to the greater society.
President Sally Mason, Earth Day 2008