The Office of Sustainability is offering several ways to virtually learn about Sustainability at Iowa before returning to campus in the Fall! Check out the rest of our website for even more tools and resources designed to help you learn, work, and live sustainably at Iowa!
Learn More About the OSE!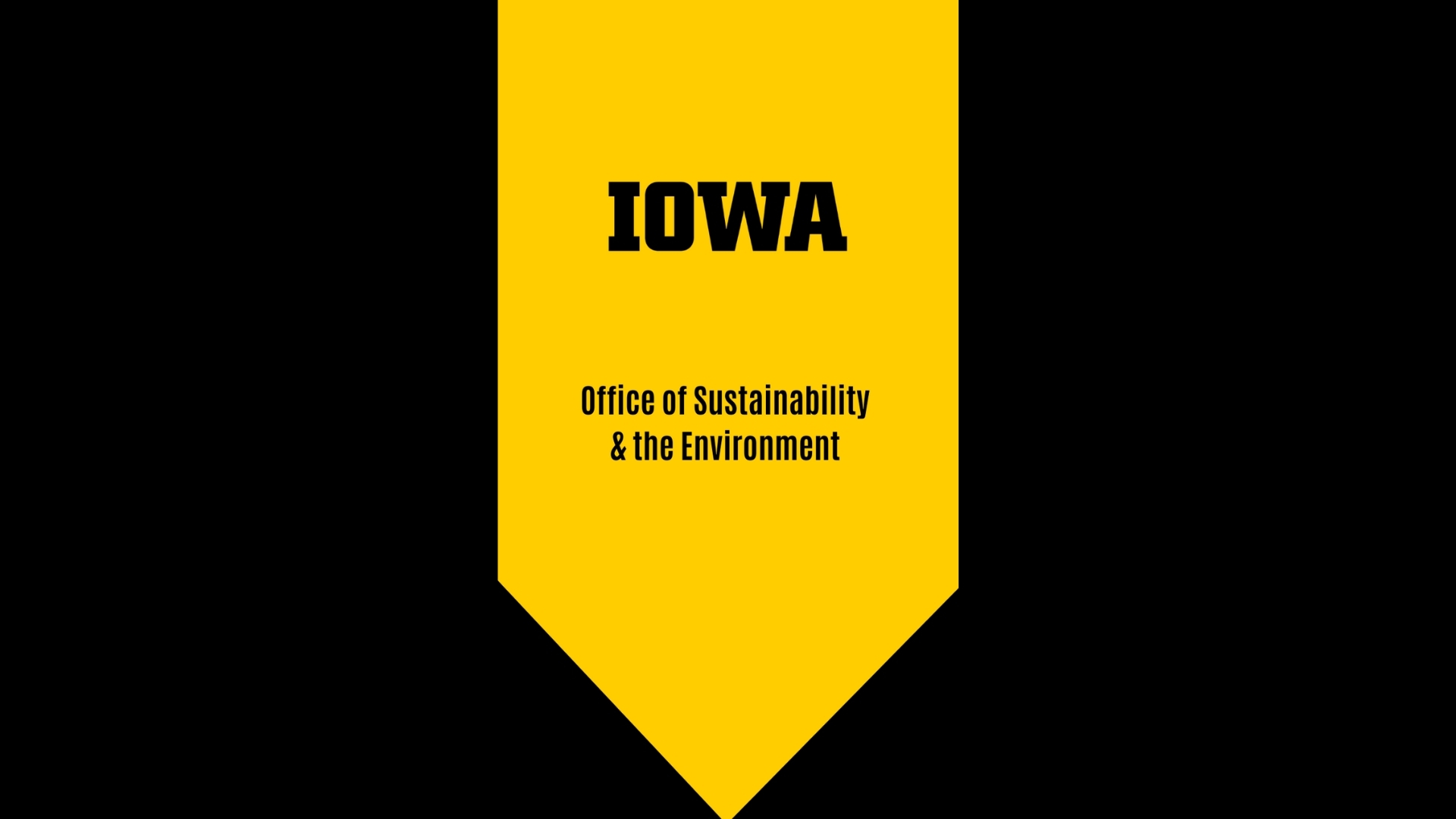 Virtual Tour of Campus Sustainability
Take a virtual tour to learn about all of the sustainable features on the University of Iowa campus! It highlights both the latest sustainability initiatives and the sustainable history of some of the oldest buildings on campus.
Prairie Tour: Wildflowers and Pollinators on the UI Campus
8:45am - 10:45am August 17th 
Meet at Cambus Stop #0601 Schaeffer Hall/Downtown Interchange
Join staff from the Office of Sustainability and Department of Earth and Environmental Sciences on Tuesday, August 17th, 8:45-10:45 AM for a tour of the UI Ashton Cross Country Prairie Restoration project. See prairie wildflowers and native pollinators on the UI campus!  Join prairie specialists and fellow Hawkeyes for a tour of a newly reconstructed prairie.  Learn how the UI campus is becoming more sustainable and environmentally friendly.  Staff members from the Office of Sustainability and the Environment will help you download and use iNaturalist, a powerful and useful plant identification app.
Please meet at the Cambus stop adjacent Schaeffer Hall on the Pentacrest. We will ride a Cambus to the Prairie Restoration Project (adjacent to the Hawkeye Commuter & Storage Lot). At the end of the tour, students will ride the Cambus back to the Cambus stop adjacent Schaeffer Hall.
Living Green On Campus & Beyond
10:00am - 2:00pm August 19th
Jessup Hall 5 W Jefferson St, Iowa City, Iowa 52240
Interested in living a more eco-friendly lifestyle, studying sustainability, or meeting other students interested in environmental issues?  Visit the Office of Sustainability and the Environment's Open House to discover the world of sustainability here at Iowa.  Stop by for a free plant to grow in your new living space, meet student org leaders, and learn how to make sustainability a part of your academic career.
Farmer's Market Tour
8:30am - 10:00am August 21st
Meet at Old Capitol Building
Meet for a short walk to Iowa City's iconic and vibrant Farmers Market. Gather on the downtown-facing steps of the Old Capitol at 8:30am. Join the Office of Sustainability and the Environment staff and student interns for a tour of the farmers market, and an introduction to the UI and Iowa City's local food movement, as we stroll through the market's myriad offerings of excellent food, sights and smells, and music. The Office of Sustainability and the UI Student Government will provide vouchers to be redeemed for farmers market goodies to the first 35 students participating.
One-on-One Video Consultation
Request a one-on-one video consultation with our staff to discover the best opportunities for you, learn more about our mission, and ask questions to our experienced student interns.
Sustainability Courses in Fall 2021
Are you still looking for credits for Fall 2021? Check out our list of our favorite courses at Iowa related to sustainability and the environment! Also, check out the Certificate in Sustainability!
Enroll in Sustainability Courses
Volunteering in Sustainability
There are countless opportunities for sustainable volunteering in Iowa City. We're happy to host volunteers at our office or to help connect you with our celebrated community parners. Email us or request a consultation if you don't find what you're looking for below!
Research with Sustainability Scientists & Scholars
Sustainability is a priority for scientists and scholars in every discipline at Iowa, including the natural and social sciences, medicine, engineering, mathematics, humanities, and the arts. Check out our list of Iowa faculty and staff who are working sustainably, and email us or request a consultation if you don't find what you're looking for below! We're happy to help connect you with a research project that you're passionate about!
Sustainability Bingo!
During OnIowa week, complete 4 or more easy and quick sustainability tasks on your Bingo card and win a free plant for your dorm or apartment and a goodie bag from the Office of Sustainability! When you cross off 4 things, come to the OSE, located in 3 Jessup Hall to pickup your prizes.