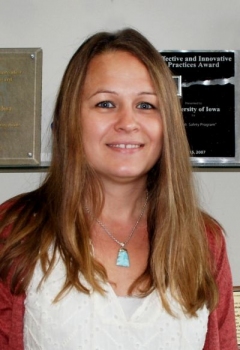 Beth MacKenzie joined the Office of Sustainability on Thursday, September 15 as Recycling Coordinator.
Beth comes to us from St. Louis where she worked as a program manager for the City of St. Louis' curbside recycling program and served as the Sustainability Outreach and Education Coordinator for Brightside, the nonprofit organization contracted by the City of St. Louis to plan and implement the city's recycling education program. She has over ten years of experience in recycling and environmental management and is a graduate of Southern Illinois University Edwardsville with a M.S. in Environmental Science Management. Beth is originally from the Quad Cities area.
Beth and Brightside recently won the 2016 Outstanding Recycling Education Program award from the Missouri Recycling Association.