Building with Leadership in Energy and Environmental Design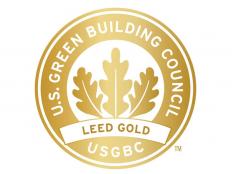 Leadership in Energy and Environmental Design (LEED) promotes a whole-building approach to sustainability by recognizing performance in five key areas of human and environmental health: sustainable site development, water savings, energy efficiency, materials selection, and indoor environmental quality.
The University of Iowa is committed to sustainability in its campus development through the incorporation of green principles in the placement, design and construction of new campus facilities and major renovation projects. The UI will continue its commitment to sustainability in building design and construction and is investigating other processes and programs.
See Facilties Management's listing of UI LEED buildings in order of certification, along with buildings with pending status.
Related News
By Lauren Arzbaecher. Originally published via...

By Rylee Wilson. Originally published via The...