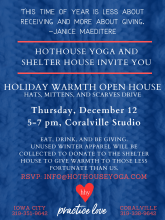 December 12, 2019 - 5:00pm
Eat, drink, and be giving.    Used winter apparel (hats, mittens, and scarves) will be collected to donate to the Shelter House to give warmth to those less fortunate than us.   RSVP: info@hothouseyoga.com
March 31, 2020 - 5:00pm
The Environment & Sustainability Career Forum will involve networking with alums and local professionals working in various areas of Environmental Science, Geography, and Sustainability. All Students are welcome! This event is meant to be casual; appetizers provided. This event is sponsored by Pomerantz Career Center, Office of Sustainability and the Environment, Department of Geographical and Sustainability Sciences, Environmental Sciences Program, Sustainability Certificate Program. 
Sustainability on Social Media
Sustainability by the Numbers
1,897
students and faculty
participating in Eco Hawks Program
225
students enrolled in
Certificate of Sustainability Program
7.5
million pounds of waste
recycled and diverted from landfill
400+
sustainability-related and
focused classes to choose from
$21
million secured for
sustainability-related research since 2014
36
thousand hours invested by UI students
and faculty through the Iowa Initiative
for Sustainable Communities
Rated "Silver" in Sustainability Tracking (STARS) by the Association for the Advancement of Sustainability in Higher Education.
Designated a Tree Campus USA by the Arbor Day Foundation for 10 years and running!