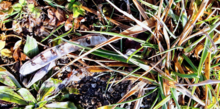 July 7, 2020 - 7:30pm
Program: "From Landfill to Urban Park" Presenter: Isaac Robb, Director of Urban Projects, Western Reserve Land Conservancy Date & Time: Tuesday, July 7, 2020: Member Meeting at 7:30 p.m. Speaker at 8:00 p.m. Programs are free and open to the public.
July 8, 2020 - 2:00pm
  In this workshop, you will learn strategies for navigating through the jungle of scholarly publishing. Have you ever wondered how to identify which journal to publish in? Want to learn how to avoid predatory publishers? What is the difference between traditional publishing and open access? This workshop will provide answers to these questions and more. Bring your own questions too! Taught by Kari Kozak, Head, Lichtenberger Engineering Library. 
July 9, 2020 - 9:00am
Beginning in 2017, the Michigan Department of Environment, Great Lakes and Energy (EGLE) found unexpectedly high levels of perfluorooctane sulfonic acid (PFOS) in chrome plater effluent, which is generally routed to wastewater treatment plants (WWTPs) for treatment along with municipal sanitary wastewater before discharge to lakes and streams.  In 2018 EGLE asked the United States Environmental Protection Agency (EPA) to conduct a study to answer the question of whether the "PFOS-free" fume...
July 15, 2020 - 2:00pm
How do you make a list of every single paper that cites you? How do you gather evidence and demonstrate potential values and research impact? This workshop will help you understand how to interpret "standard" scholarly metrics (h-index, impact factor, CiteScore etc.) and where to find them, explore three major sources of citation data (Web of Science, Scopus and Google Scholar), and identify best practices on broadening your research impact....
Sustainability on Social Media
Sustainability by the Numbers
1st
University in the Big10 to receive
Fair Trade University designation
8.16
million pounds of waste composted,
recycled and diverted from landfill
100%
of UI Cambus fleet is
powered by clean-diesel technology
387
Sustainability Certificates granted
to UI students and graduates
$135m
awarded in funding for sustainability
research across the UI campus
$900k
spent every year by UI Housing and Dining
to purchase local foods, dairy, and goods
from local farmers and vendors
Rated "Silver" in Sustainability Tracking (STARS) by the Association for the Advancement of Sustainability in Higher Education.
Designated a Tree Campus USA by the Arbor Day Foundation for 10 years and running!