Zen Coloring Book Design Contest
Sustainability Meets Art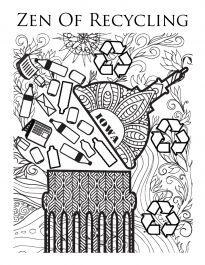 The UI Office of Sustainability has developed a coloring book which can be enjoyed by children and families at University of Iowa Stead Family Children's Hospital, as well as students, staff, faculty, and other campus visitors.  The designs in this book were created by talented members of the UI campus community as part of a design contest.  Each artist incorporated the theme of recycling into their unique design to celebrate RecycleMania, an annual event that helps increase recycling awareness.
We are pleased to present the UI Zen of Recycling coloring book.  We hope that you find peace, comfort, and relaxation while expressing your own artistic talent as you color in these intricate designs.
Get A Copy & Share Your Coloring Skills
Feel free to contact the Office of Sustainability to get a copy of your own, or download a PDF and print out the designs you like best.  We would love to see your designs after they've been colored in.  Take a photo of your coloring masterpiece and send it to us at recycle@uiowa.edu or share it on social media and tag us in your photo.