12 Days of Local, Sustainable Giving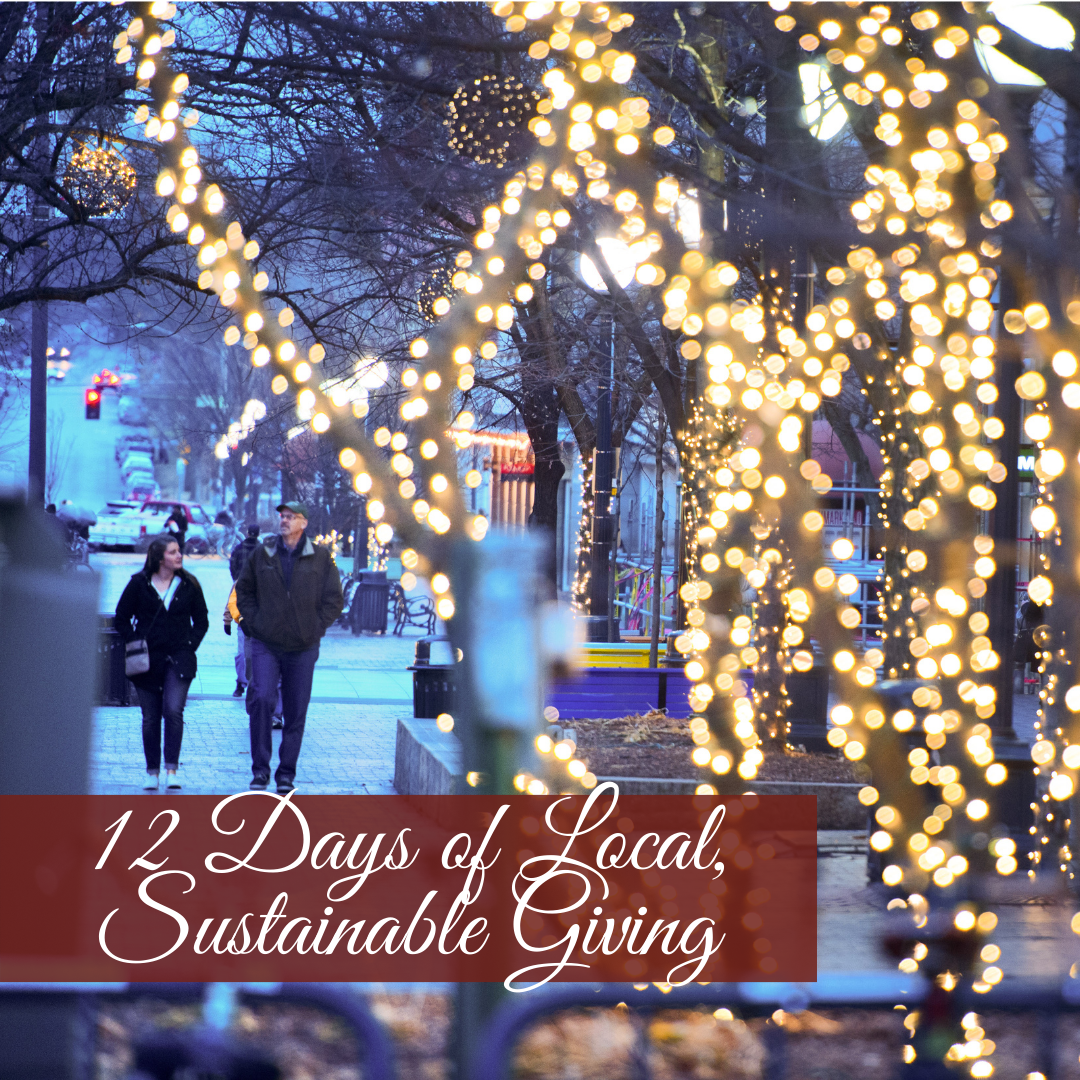 12 Days of Local, Sustainable Giving
The holidays are quickly approaching, which means that the shopping malls will soon be filled with festive shoppers hoping to find the perfect gifts for the loved ones in their life. But what they don't know is that every year Americans throw away 25% more trash during the period between Thanksgiving and New Year's compared to any other time of the year according to Stanford University (https://lbre.stanford.edu/pssistanford-recycling/frequently-asked-questions/frequently-asked-questions-holiday-waste-prevention#:~:text=A%3A%20Americans%20throw%20away%2025,million%20extra%20tons%20per%20week!). To combat this, we have compiled a list of local/sustainable Iowa City businesses to ensure the holidays are a little more green this year!
Basic Goods
According to their website, Basic Goods is a POC owned business that aims to connect all consumers to the best clean, sustainable, and inclusive brands for self and home. They are best known for their refill station where customers can buy items such as laundry detergent, dish soap, multi-purpose cleaner, etc. by simply filling their reusable container. Some other great gifts you could buy here include plants, skincare products, and candles. Located in the pedestrian mall in downtown Iowa City means the store is a short walk for many students and quick drive for Iowa City residents.
Dumpling Darling
https://www.dumplingdarling.com/iowa-city-location
Nothing (in our opinion) is better than the gift of comfort food. Dumpling Darling cares "about food, the earth, and bringing people together." Their menu features a large array of dumplings, bowls, rice, and more while managing to divert most of their waste from the landfill by using compostable take-out materials and composting their own food waste themselves. Plus, every Monday they donate 10% of their proceeds to a different non-profit every month.
Willow and Stock
In need of some fresh holiday floral arrangements to bring to that holiday party you were invited to? Willow and Stock is a local, independent florist located on the north side of town that "intends to serve the growing consumer desire for products created ethically and responsibly, while maintaining high standards of beauty, quality, and customer care." Buying local, fresh, in-season flowers ensures that those flowers were sourced as close to home as possible to eliminate greenhouse gas emissions. Additionally, Willow and Stock are committed to eliminating waste wherever possible by using biodegradable butcher paper, composting their floral scraps, and delivering by foot or bike. Consider them for all your holiday occasions!
White Rabbit
https://white-rabbit-shop.myshopify.com/
White Rabbit is a "cozy, colorful store offering new and vintage women's clothing with a focus on local, handmade items." If you are the type of person who likes to stay up to date with the trends without giving in to fast fashion, White Rabbit is the store for you! They sell items such as clothing, jewelry, hair accessories, bags, candles, wall décor, and much more. Perfect for any college student looking for a younger, fresh store to shop at.
Ten Thousand Villages
https://www.tenthousandvillages.com/iowacity
"Ten Thousand Villages is a non-profit, global maker-to-market movement where you go to find items that are handcrafted, ethically sourced, fair trade, eco-friendly, and gift worthy," says their website. By choosing their store, you are choosing to buy items made by international artisans with a livable wage. Shop here for accessories, home and kitchen, spa and wellness, and outdoor items.
Revival
Revival is a clothing store located in the downtown pedestrian mall that buys, sells, and trades women and men's clothing that are locally designed and produced. Luckily, they just reopened their new location after months of remodeling. Instead of contributing to fast fashion, consider Revival for all your clothing needs.
Get Fresh Café
https://get-fresh.square.site/
Get Fresh Café is best known for their juices, smoothies, and acai bowls. They offer compostable to-go materials as well as a bottle deposit program where a customer can buy their juice in a glass jar and return it once they are done to be reused and receive a portion of their money back. They also allow customers to bring their own containers in for smoothies. Overall, this is a great place to purchase a gift card for any student, newly grad, or young professional.
HABA Salon
HABA Salon is "a fresh, friendly, and superior quality hair salon in Iowa City," and is the perfect place to purchase a gift for the one who values self-care. HABA is a Green Circle Salon because they aim to be as sustainable, environmentally friendly, and cruelty-free as possible. From the products they carry, to how their waste is disposed, they aim to be as sustainable as possible and recycle up to 98% of what would typically end up in the landfill. Consider their salon for hair products, services, and gift cards!
Raptology
We know what you're thinking, how are raptors a gift? "Raptology is a raptor and wildlife education group based in Iowa City." Some of the most sustainable gifts one can give are not things but experiences, and this experience is great for kids or anyone who has a passion for wild animals. Their goal is to provide up close and unique experiences with birds of prey to inspire the next generation to love, respect, and protect raptors as well as the environment that sustains us all.
Trumpet Blossom
https://www.trumpetblossom.com/
Trumpet Blossom is a "cozy place for vegan dishes made with carefully sourced ingredients, plus beer, wine, and cocktails." This restaurant is another great place to pick up a gift card to give to a loved one! They "specialize in creative, seasonal dishes while focusing on sustainability by using no animal products and sourcing as many local ingredients as possible." They are also committed to incorporating organic grown items. The perfect gift for someone who loves trying new foods!
The Iowa City Bike Library
https://www.icbikelibrary.org/
The Iowa City Bike Library repairs donated bikes and offers them to the public. This is a perfect gift for the one who loves being active outdoors." The bikes are priced with deposit and checked out for six-month periods. If a bike is returned in good condition within the checkout period, the deposit will be returned to the user minus a $50 sustainability fee that keeps our doors open." This is a great gift for someone who just wants to get outside during those warm months, but if you find yourself wanting to buy a bike permanently, this is a great place to find inexpensive, quality second-hand bikes as well.
Heim
Looking for a gift for the artsy, spiritual one in your life who loves homemade goods? Heim is a "brick and mortar shop home to ceramic art and a curated collection of spiritual supportive goods." Here, you can shop for ceramic mugs, apothecary, crystals, candles, and plants.