Build a "Sustainable Landscape" with ENVS:3230 Instructor Michael Fallon this Fall!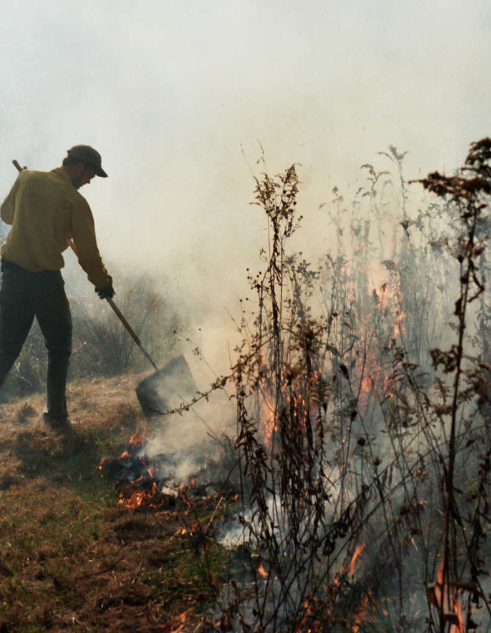 Enroll in ENVS:3230 on MyIU today!
Students interested in sustainability and the environment find many rewarding opportunities at the University of Iowa. One of our favorites is ENVS:3230 Sustainable Landscapes, which offers a unique, hands-on learning experience. Led by Instructor Michael Fallon, students actively participate in the ecological restoration of a prairie. They learn the principles of ecological restoration and gain practical life skills at the same time. Read our interview with Michael below, and enroll in ENVS:3230 today!
What is "Sustainable Landscapes?"
First and foremost, Sustainable Landscapes is an introductory course where all students have a historic opportunity to help build a brand new prairie restoration --on the University of Iowa campus! Students will conduct basic field research on: soils and soil erosion, pollinators and wildlife habitat, botany, and prescribed fire/controlled burning practices. Students will observe, measure and analyze the quantity and quality of the native prairie plant community, soil health, weed presence and management, and land use history.
How is this course a unique opportunity at the University of Iowa?
Students often study the principles of ecological restoration, but rarely have a chance to implement them firsthand. In ENVS:3230, students have a unique opportunity to actively participate in the ecological restoration of a rare and endangered native landscape -- the Tallgrass Prairie. Many Midwesterners (and others) are familiar with the word "prairie," but to experience what the famous author Willa Cather describes as "grass [that] was the country, as the water is the sea" is novel and not to be missed.
What do you hope students take away from this course?
Most of all, the joy and wonder of your heart and mind opening to the beauty of the natural world. A close second would be for them to feel a profound sense of pride and honor from helping construct a sustainable landscape. For I truly believe that sustainable landscapes are the path to a brighter future, healthier earth, and happier people.
What do you hope the University of Iowa community gains from this course?
The University of Iowa has fallen short in exposing students and others to what was once a majestic landscape -- the Tallgrass Prairie. Arguably, exposure to and an appreciation of the pre-industrial native landscape gives students and others an appreciation of Iowa's rich and complicated land use history. Certainly, I hope that with exposure to a prairie, students and others will glimpse, if only for a short while, the fragile ecological world that supports and unites all people. Finally, I am certainly not alone in developing this course and building a prairie. Many people in the community are involved in constructing a new prairie restoration on campus. I am indebted to Prof. Andrew Forbes (Director, The University of Iowa Environmental Sciences Program), Stratis Giannakouros (Director, The University of Iowa Office of Sustainability), Tony Senio ( Supervisor, The University of Iowa Athletic Grounds Department), and Megan Lenss (Undergraduate, The University of Iowa).

Sign up for ENVS:3230 Sustainable Landscapes on MyUI today!
Mike Fallon earned a Bachelors of Science degree in Forestry and Wildlife (Environmental Resource Management) from Virginia Polytechnic Institute & State University (Virginia Tech) in 2006. Over the years, Mike has worked in various capacities, mostly in the field of natural resource management. From 1999 - 2001, while living in Socorro, New Mexico, Mike was both a district forester and wildland firefighter. From 2004 - 2017, Mike owned and operated a business, "Native Landscaping, LLC," which specialized in prairie, savanna and woodland restoration. Over the years, Mike and former employees have constructed and/or restored rain and butterfly gardens, prairie and woodland remnants, bioswales and wetlands, and countless native landscaping features. Finally, as a wildland firefighter and burn boss, Mike has participated in or orchestrated nearly 100 fires (prescribed, controlled and wild).