How two sustainable entrepreneurs are making Iowa City a better place

Michael Simon and Garik Himebaugh are two Iowa City entrepreneurs who are actually hoping to put their companies out of business. As entrepreneurs dedicated to sustainability, both have found innovative ways to solve the issues that they care about. The faster their work is finished, the faster they can start working on another problem.
"I would essentially like to put myself out of business... If all clothing were sustainably made, I could go work on another problem." - Garik Himebaugh, Founder of Eco-Stylist
Michael and Garik met as UI graduates in the Founder's Club, an on-campus business incubator, while Michael founded Clean River Solutions, an innovator in water quality and flood prevention, and Garik founded Eco-Stylist, a sustainable, online shopping experience for men. They most recently worked together to organize an Earth Day river cleanup at Ralston Creek in East Iowa City. 17 students and community members volunteered at the event, collecting 20 bags of trash, a bicycle, several pieces of furniture, and a flat-screen television from just two blocks of Ralston Creek and its banks.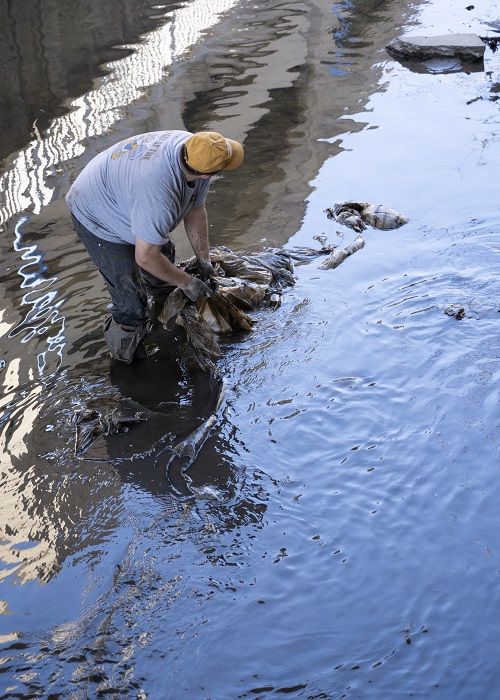 Afterwards, Michael and Garik sat down with the Office of Sustainability and the Environment to talk about river cleanups, their companies, and the advice that they have for others interested in sustainable and socially-conscious business.
Michael and Garik's primary hope for the river clean-up was "just going out there and getting some trash picked up." Garik originally proposed the idea to Michael as a way to celebrate Earth Day and the event came together seamlessly from there – Eco-Stylist and Clean River Solutions co-hosted the event with the help of United By Blue, a national company that has committed to cleaning waterways around the country. Their main goal was to show just how easy it is to get involved, whether organizing your own river clean-up or just picking up trash as you walk outside. "Really, the community needs to become more invested in preventing pollution of these creeks and streams… It has to be a sustainable effort," said Michael.
"For me, my hope is that people will see how easy it is to get involved-- Whether it's just taking more time to make sure that trash won't fall out of a garbage bag or picking up trash on a walk home." - Michael Simon, Founder of Clean River Solutions
Javy Perez, a student at the University of Iowa, came to the event after meeting Michael and Garik through the Founder's Club. "Their businesses are doing some great things for the environment and the community, so I wanted to show my support in their mission." He also thought that the event was a success, saying, "It was awesome to see people dedicate part of their Saturday to help the environment." Javy wasn't the only person excited about the event's success. People in the community stopped and thanked the volunteers, and two students even bought the group a case of water. "Hopefully, we can all do it again soon," said Javy.
Michael and Garik plan to organize more river clean-ups in the future, but they're also busy with their companies. Michael made headlines last year when he built the RC Beaver, a prototype for "a swimming drone to clear woody debris and blockages," and won two prizes through JPEC competitions. With Clean River Solutions, Michael would like to use the Beaver to safely and cheaply clean rivers. As he finds more ideas, he would eventually like to address flooding more broadly, slowing water down and reducing flooding damage. Overall, he said, "I just want to make rivers nicer for people to enjoy." Garik has also been praised for Eco-Stylist and his work to provide sustainable clothing options for men. After realizing the extent of pollution and human rights violations in the fashion industry, Garik built Eco-Stylist to endorse eco-friendly, socially responsible, and ethically sourced men's clothing. Consumers can easily find any ethical menswear they need, from organic cotton oxfords to zero waste hats and sunglasses made from recycled plastic bottles. In the end, Garik said, "I want to see all clothing be sustainable."
Michael and Garik have learned a lot from their experience with start-ups, and they're excited to share what they've learned with others interested in sustainability and innovation. Michael found that the most important lesson he learned was to get out and talk to potential customers. "Entrepreneurship is not just risk taking—By doing customer discovery, we can make it a calculated risk." Garik also talked about customer discovery and the importance of trusting your business' success. "In a sustainable or socially good business, sometimes you get a lot of resistance. What you have to do is trust the data and yourselves." Both entrepreneurs talked about the benefits and the costs of starting a business, saying that "it's the greatest but hardest experience," although "the benefits definitely outweigh the costs."
When asked to give advice, Michael and Garik agreed that the possibilities are endless for sustainable entrepreneurs. "If you look at the forefront of sustainability, you'll find a lot of opportunities to get involved or do your own thing," said Garik. Michael suggested that competitions like IdeaStorm and Founder's Games or programs like JPEC and EntreFest represent just a few of these great opportunities for sustainable innovators. If you have an idea, go pitch it to one of these competitions; if you don't have an idea yet, find other people at business programs with similar goals and brainstorm. Getting involved, even through events like river cleanups, will help you make connections and learn about innovation until you find the people and the idea necessary to start your own project.
---
Thank you to Michael Simon at Clean River Solutions and Garik Himebaugh at Eco-Stylist for co-hosting the Ralston Creek Clean-Up and for allowing the Office of Sustainability and the Environment to write this article. Thank you to Javy Perez as well for his participation in the event and his interview with the Office and to Vilte Vaitkute for her photography services.
Find more information about Clean River Solutions at https://www.facebook.com/Clean-River-Solutions-192975268071254/ and Eco-Stylist at https://www.eco-stylist.com/. For readers interested in getting involved in river cleanups, Michael recommends Iowa Project AWARE, a week-long canoe and cleanup trip along the Boone River.