Julia Kirst and Hallie Lartius Present on the USS Mentoring Program at AASHE Conference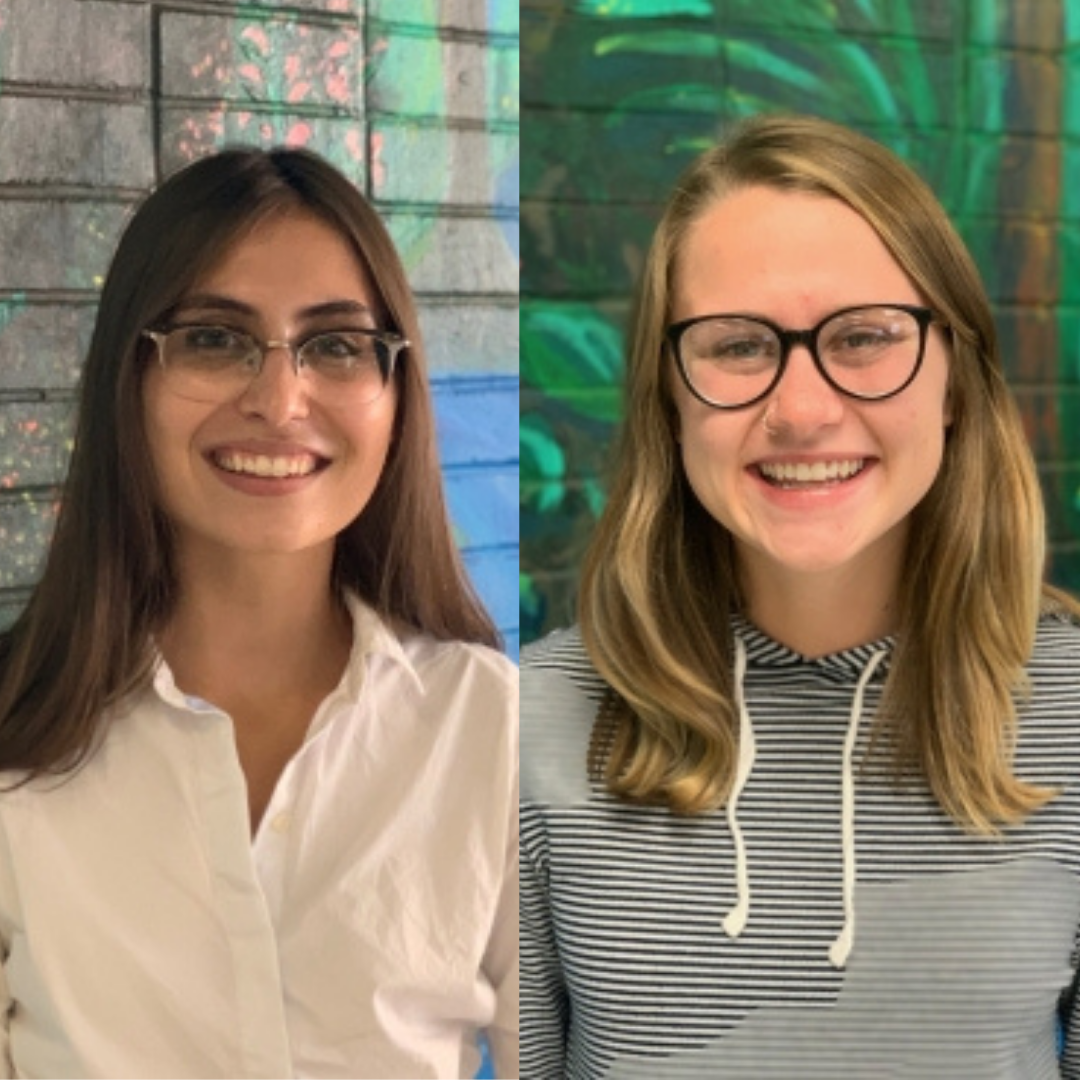 At a recent Association for the Advancement of Sustainability Education, Julia Kirst and Hallie Lartius presented on their involvement in the 'Underrepresented Students in Sustainability Mentoring Program.' AASHE is a organization focused on empowering those in higher education to effect climate action and sustainability innovation. Julia and Hallie discuss the program and their presentation experience:
Why did you become involved in the mentoring program?
Hallie: "So, the mentoring program came out of a conversation that Julia and I had last year about the need for diversity, equity, and inclusion initiatives in sustainability at Iowa. I found an article about how mentoring programs can help encourage, support, and prepare young professionals in sustainability, particularly those who are underrepresented in the field. I mentioned the idea to Julia, and from there, we just ran with it. Over the next month, we got feedback and advice from students, DEI leaders, and other mentoring programs at Iowa; gathered a pool of twenty faculty mentors; and opened the sign-up form to students! We call it the Underrepresented Students in Sustainability (USS) Mentoring Program."
Julia: "As a student interested in sustainability, I didn't know exactly what I wanted to study and what I wanted to do when I started at Iowa. I was searching around for guidance and talking to various professors and career advisors when I met with Professor Dave Cwiertny. He cemented my interest in the field of Environmental Engineering and told me that I could combine what I wanted to do, policy, with what I thought I should do, engineering. It was very validating to hear my aspirations were legitimate and to be able to talk with someone who had a lot of experience in an area I was interested in. I really wanted other students to be able to connect with faculty and staff like that and to have access to more resources at Iowa. At the time, I was also a peer mentor for Women in Science and Engineering, and I thought a mentoring program would be just the way to do this. Hallie and I had also been discussing the homogenous nature of leadership in the field of sustainability, so we decided to create a mentoring program for underrepresented students interested in sustainability."
What is your role in the program?
Hallie: "Julia and I are co-directors of the program. Throughout the year, we work together to match students and mentors, give them the tools to have a successful mentoring relationship, hold professional and social events for our students, connect students with opportunities on campus, and gather feedback! We're also always working on expanding the program: we've been working with Stratis since last year to offer financial support for underrepresented students, and we created our presentation for AASHE with the goal of building a network for our students and inspiring similar programs elsewhere."
Julia: "I am a co-director, and I also have a mentor through the program."
What have you gained from the program?
Hallie: "When Julia and I created the program, we focused a lot on how difficult it can be for ourselves and students like us to reach out to and build a relationship with professors. These relationships are so important for students: professors can offer academic support, give career advice, and even write letters of recommendation. At that point, I felt like I hadn't made any meaningful connections with a professor at Iowa; most of my professors were white men coming from very different backgrounds than me, and it felt like they were way too established to be able to relate to me as a student. Since creating the program, I've met and worked with so many professors that it hardly phases me anymore. I still get nervous sometimes when I have to present to a group of people who are far more accomplished than me, but USS has really changed my perspective. One thing that I've gained from the program and that I hope all of our students have gained as well is a sense that our professors and all other leaders are here to support us as newcomers. We can and should feel comfortable going to them for help, and they can learn from us as much as we can learn from them."
Julia: "I have met a lot of cool students, faculty, and staff working in sustainability at Iowa and learned about more of the work being done on campus. I have learned the challenges of running a mentoring program and trying to foster meaningful connections for those involved. I have been happy to learn that students made connections with faculty and staff on campus and found new opportunities that they might not have otherwise. I have also earned a research opportunity that I really enjoy." 
Why do you think the program is important?
Hallie: "USS is all about putting students first! We do everything we can to help prepare our students to join the next generation of leaders in sustainability and the environment! The program also helps mentors as an opportunity to connect one-on-one with a student and experience a new and different perspective on sustainability." 
Julia: "I think the program is important because it gives students access to more resources that they might find hard to discover on their own. I want the future of sustainability to be filled with diverse minds from all different kinds of backgrounds, but navigating higher education and exploring interests is definitely easier for people who come from more privileged backgrounds. Therefore, I hope this program can offer more chances for all types of students to make connections to find what is out there that they want to be involved in, so that they can excel in sustainability." 
Do you recommend that others get involved with the program, either as a student or mentor, and why?
Hallie: "Yes! All students are welcome to sign up for USS. Feel free to contact me throughout the year if you would like to get involved."
Julia: "Of course! For students, you will meet great people and having a faculty or staff mentor is a terrific way to make connections on campus that you did not have before. For mentors, you will meet students who have new ideas that you can help grow." 
Do you have anything else you would like to share regarding the mentorship program or the ASSHE presentation?
Hallie: "Presenting at the AASHE conference was an incredible honor and such a rewarding experience for Julia and me. We're so thankful for all of the support we received from last year's students and mentors and the Office of Sustainability staff in making our presentation."