OSE Co-Hosts 1st Annual Ashton Prairie BioBlitz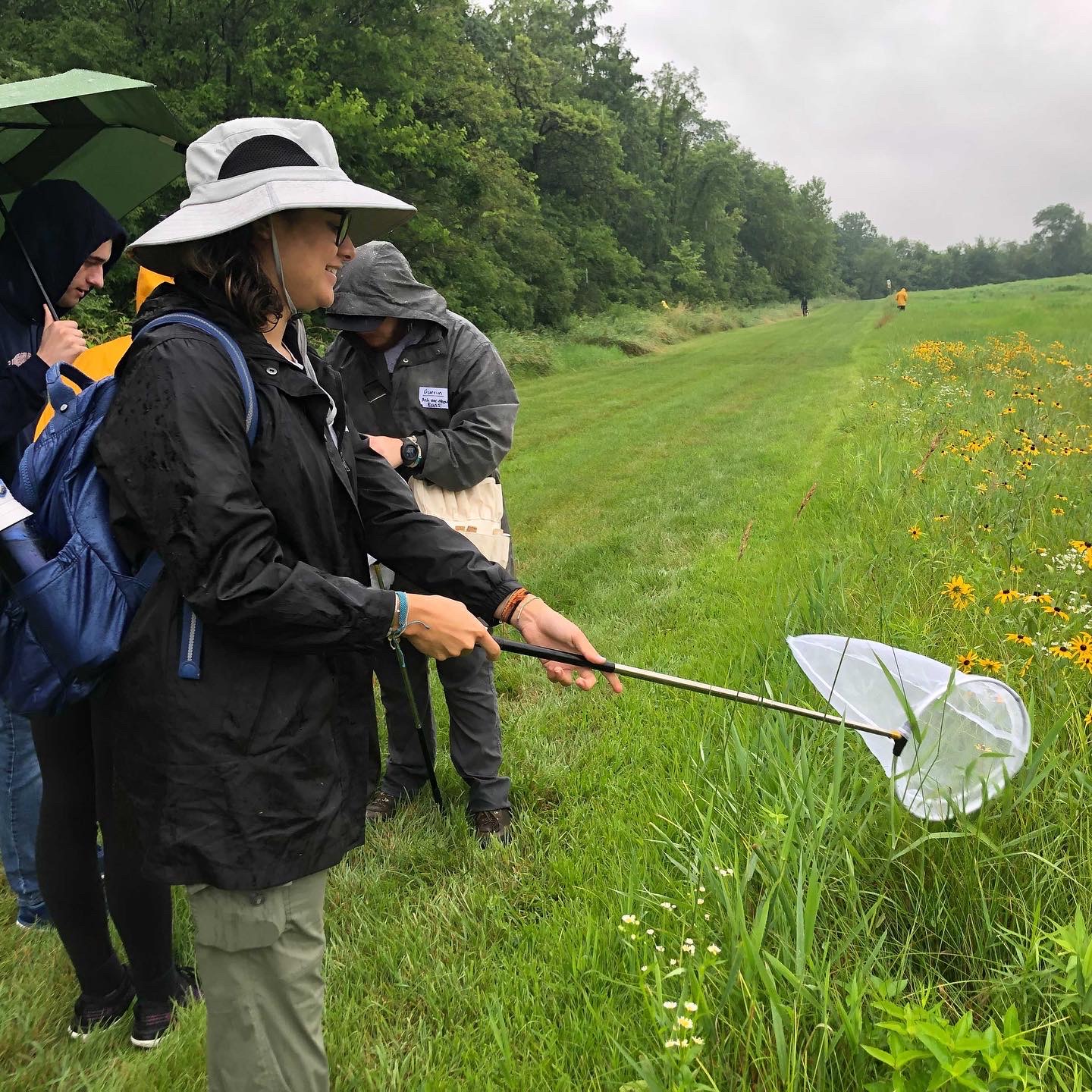 OSE Co-Hosts 1st Annual Ashton Prairie BioBlitz 
On Saturday, July 10th, the Office of Sustainability and the Environment (OSE) co-hosted the 1st Annual BioBlitz located at the Ashton Prairie Living Laboratory Site at the UI Ashton Prairie Cross Country course. This event, coordinated and organized by Dr. Andrew Forbes from the UI Biology Department, included facilitators from  University of Iowa Biology, Earth and Environmental Sciences, Office of Sustainability and the Environment, The Iowa Raptor Project, UI Museum of Natural History, the Iowa City Science Booster Club, and 10 visiting Interdisciplinary Evolutionary Sciences research students with additional support from the Center for Global and Regional Environmental Research.
A couple years ago, a group of students got together and asked themselves, "Why does The University of Iowa not have a prairie on campus?" After contemplating this, that same group got in touch with the OSE and the Iowa Athletics Department who were then able to assist students in the creation of the prairie site located on the Ashton Cross Country course.
"Conveniently situated on the UI campus, athletes, scientists, and visitors alike experience the beauty and wonder of the prairie. This prairie reconstruction features 50+ plant species native to Johnson County, Iowa. Transforming underutilized land to prairie is a praiseworthy endeavor, and I personally wish to thank Tony Senio and others at the UI Athletics for their foresight and assistance. The Prairie Reconstruction Project is a unique collaboration between UI Athletics, the Office of Sustainability and the Environment, Department of Earth and Environmental Sciences, the Department of Biology, UIowa Undergraduate Student Government, the Iowa Native Plant Society, UI College of Engineering, and the IIHR - Hydroscience and Engineering," says Michael Fallon, an adjunct instructor from the Department of Earth and Environmental Sciences at the University of Iowa. Fallon also wishes to thank Andrew Forbes (Associate Professor in Biology) and Jessica Smith (Communications Coordinator) for their contributions to the prairie and the event itself.
But what is a prairie and why are they important? According to the National Trail, prairies are unique and complex ecosystems that provide a rare, native, biodiverse habitat for numerous species such as birds, butterflies, insects, reptiles, and plants. In addition, prairies often can be found surrounding water systems due to their ability to clean water as it passes underground, acting as a natural water filtration system. When creating and maintaining a new prairie, it is beneficial to keep a record of the prairie's biodiversity in order to track its growth. A BioBlitz is a fun and effective way to do this because the event focuses on finding and identifying as many species as possible in a specific area over a short period of time (National Geographic). Smartphone technology and apps such as iNaturalist make collecting pictures and identifying species easy for anyone to do whether it is at a BioBlitz or on a walk in their own neighborhood.
Despite being a rainy day, approximately 75 people from as young as 15 months old to retirees participated in the Ashton Prairie BioBlitz event, and with their help, a total of 127 different species were documented. 
"The BioBlitz was my first time participating in an organized 'Citizen Science' event. As a lay/non-scientist who has been following the Prairie Reconstruction Project since infancy, I really enjoyed a few hours walking through this biodiverse environment – and even ventured into surrounding woods. Contributing to inventory of fauna – mostly insects – and flora felt wonderful. Prettiest finds? Probably chrysochus auratus and blooming milkweed," states Matthieu Biger, a participant in the BioBlitz.
Samples collected from the BioBlitz will be housed in the UI Museum of Natural History collections, accessible for comparative data analysis for generations to come. The Office of Sustainability and the Environment is grateful for the University and community's involvement and looks forward to hosting the next annual BioBlitz.
Find more species and insects collected can be found at:  https://www.inaturalist.org/projects/ashton-prairie-2021-bioblitz
| | | |
| --- | --- | --- |
|   |   |   |
| Red Milkweed Beetle (Tetraopes tetrophthalmus) | Japanese Beetle (Popillia japonica) | Monarch Butterfly (Danaus plexippus) |
|   | |   |
| Black-eyed Susan (Rudbeckia hirta) | Bumblebee (tribe Bombini) | Jelly Fungus (Dacrymyces Capitatus) |