Recycled Runway Fashion Show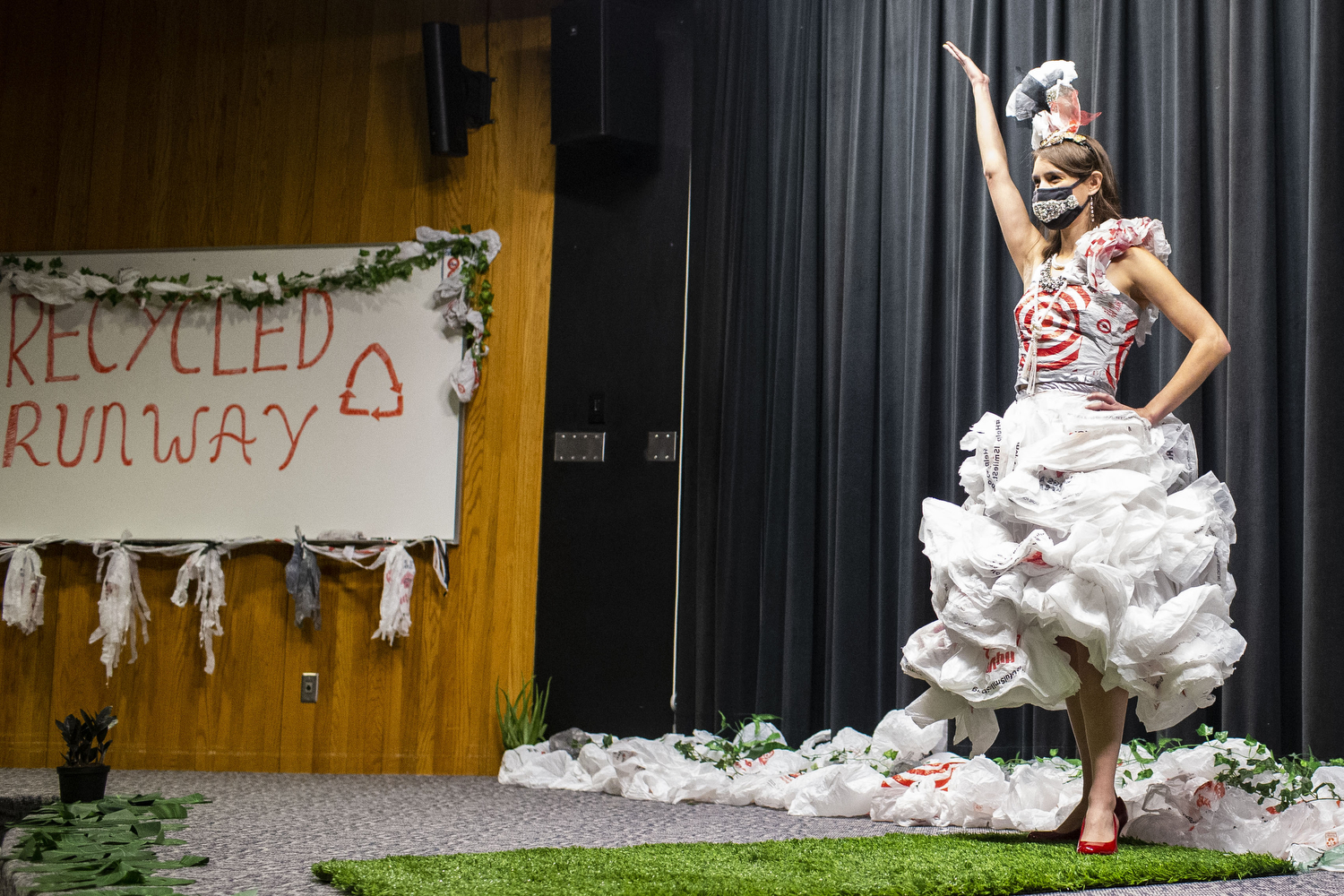 Photo: Grace Smith/The Daily Iowan
Story: Delaney Behning
The Recycled Runway Fashion Show reuses donated plastic bags by transforming them into clothing, using the skills of community designers and showcased by models. This is put on through the Event Management Workshop, a class through the event management certification program, and within it, six students are leading this year's Recycled Runway event. This is the second year of the event. 
The students are in charge of reaching out to designers, models, and sponsors for the event, as well as setting it all up for under $150. Throughout this process, the students implement various aspects of sustainability into the event. While the students leading the project are not typical environmental or sustainability science students, they are excited to teach students about sustainability who might not otherwise be exposed to it. Additionally, the designers and models are able to use their creativity in a sustainable way, using materials they might not use otherwise use. The plastic bags used as designing material also educate the community about sustainability and the impacts of excessive use of plastic through visual demonstrations.
The Recycled Runway Fashion Show is more than just sending a message, however. All aspects of the event take environmental impact into account. Apart from reusing the plastic materials into clothing, any other event materials are also recyclable. Further, the plastic-bag drive allows members of the community to contribute and prevents unnecessary purchase of materials. All marketing material is also sustainable, as no paper materials were used, and all were social media based. For gifts for the designers and models, the students chose to provide them with reusable straws and reusable bags. And while in planning the event, the students initially wanted to cater food, but this would not be accomplishable without generating a lot of waste; this aspect of the event shows the difficulty in planning sustainably, and how there is still much room to grow in making space for sustainability. The students also borrowed many items from sponsors such as Basic Goods, Target, and the Pioneer Food Coop in Iowa City.
The students hope for this year's event to be even more successful than last year's show and would like to see this become an annual event at the university. For anyone interested in attending, the Recycled Runway Fashion Show will take place on April 29, 2023, from 11am-12pm, located at the IMU River Amphitheater. If you would like to come, you would need to RSVP using their event link. More information can also be found through the program's Instagram page: @uieventmanagement. This event is also completely free to attend; just make sure to RSVP here. 
Bring your friends, enjoy the show, and appreciate the sustainability of a student-organized event! 
Recycled Runway Fashion Show 2022