UI Receives Recycling Bins Through Coca-Cola/ Keep America Beautiful Grant Program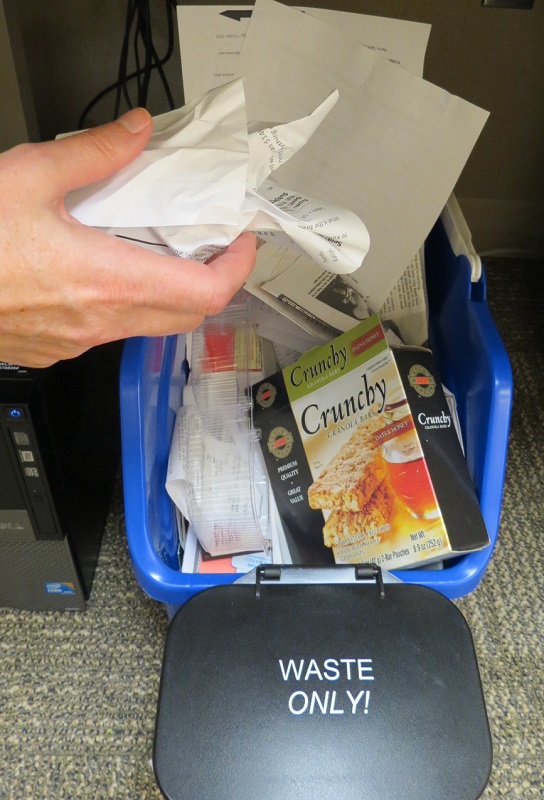 Coca-Cola with the help of national nonprofit Keep America Beautiful and many other partners and communities across the country, reached a milestone this year. The Company and its partners achieved the 1 million mark for recycling bins donated to communities.
 As part of the 2017 Coca-Cola/ Keep America Beautiful Public Space Recycling Bin grant cycle, 3,250 bins are currently being distributed to communities, including 500 bins to the University of Iowa Office of Sustainability, which helped bring the total count of recycling bins donated to local communities by Coca-Cola to 1 million, in total.
 "Coca-Cola has a long history of supporting community recycling programs in an effort to ensure that our packaging is recycled and reused," said Bruce Karas, vice president of sustainability, Coca-Cola North America. "Through partnerships like Keep America Beautiful, we are able to improve access to recycling while also continuing to make progress towards our global goal of collecting and recycling a bottle or can for every one we sell."
 Through this grant, the University of Iowa will soon distribute an additional 500 recycling bins, along with 500 tiny trash bins, to employees for use at their desks and workstations. The recycling and tiny trash bin combo will replace desk-side trash cans and help increase waste reduction and diversion.
 "By providing easy access to a recycling bin and reducing the capacity of the trash can, we are placing a higher priority on waste reduction and recycling, "said Beth MacKenzie, recycling coordinator, UI Office of Sustainability.  "We have successfully implemented this program in several buildings across campus and this grant will allow us to expand it into new buildings and departments that may not have the resources to implement it on their own."
 The Coca-Cola Cola Keep America Beautiful Public Space Recycling Bin Grant Program supports Coca-Cola's newly announced World without Waste initiative, which aims to collect and recycle a bottle or can for every one the Company sells by 2030. For the past decade, The Coca-Cola Foundation and Keep America Beautiful have offered the recycling bin grant program to 1,000 communities across the U.S. and Puerto Rico to address one of the primary barriers to recycling in public spaces – access and convenience. In addition to the grants, Keep America Beautiful provides technical best practice guidance to grant recipients and organizations about setting up effective away-from-home and on-the-go recycling programs.
 Coca-Cola has invested more than $13 million in innovative partnerships that bring curbside recycling programs to communities, help educate Americans on where to recycle, and support large-scale recycling infrastructure. With the addition of the latest Coca-Cola /Keep America Beautiful recycling grant, as well as other recycling initiatives in partnership with The Recycling Partnership and the Closed Loop Fund, Coca-Cola and its partners will achieve the 1 million recycling bins donation milestone.
 "To encourage people to recycle frequently, we need to make sure they have the proper bins available in as many locations as possible," said Helen Lowman, president and CEO, Keep America Beautiful. "The support Coca-Cola has given us to continue with this grant program allows us to address this issue and create thousands of new opportunities for people to recycle in public areas across the country."
 Grant recipients were chosen by Keep America Beautiful based on their potential to collect the most cans and bottles as well other considerations such as the potential to leverage further local investment in recycling infrastructure. A full list of the 2017 Coca-Cola/Keep America Beautiful Public Space Recycling Bin Grant recipients, as well as Keep America Beautiful's best practices guide, "Designing Effective Public Space Recycling Programs," are available at http://bingrant.org.
A 2009 study conducted by Keep America Beautiful showed only 12 percent of surveyed public locations had infrastructure to recover recyclable items. This lack of recycling opportunities is reflected in a separate national survey conducted for Keep America Beautiful in 2013, in which 92 percent of respondents said they recycle at home while only 41 percent indicated that they typically recycle in public spaces. In addition to providing more convenient opportunities to recycle, the Coca-Cola/Keep America Beautiful Public Space Recycling Bin Grant Program helps to address the issue of confusion by providing bins that incorporate recognized best practices for bin design and labeling.

About the University of Iowa Office of Sustainability
The University of Iowa Office of Sustainability was created to be a focus point for sustainability activities on campus and to expedite action and change through:
Communicating challenges and successes
Connecting individuals and organizations to catalyze action
Promoting a culture of sustainability
Coordinating events and activities to build awareness
Maintaining the credibility and public trust of the University of Iowa
About Keep America Beautiful
Keep America Beautiful, the nation's iconic community improvement nonprofit organization, inspires and educates people to take action every day to improve and beautify their community environment. Celebrating its 65th Anniversary in 2018, Keep America Beautiful strives to End Littering, Improve Recycling and Beautify America's Communities. We believe everyone has a right to live in a clean, green and beautiful community, and shares a responsibility to contribute to that vision. 
Behavior change – steeped in education, research and behavioral science – is the cornerstone of Keep America Beautiful. We empower generations of community and environmental stewards with volunteer programs, hands-on experiences, educational curricula, practical advice and other resources. The organization is driven by the work and passion of more than 600 Keep America Beautiful affiliates, millions of volunteers, and the collaborative support of corporate partners, social and civic service organizations, academia, municipalities, elected officials, and individuals. Join us on Facebook, Instagram, Twitter and YouTube. Donate and take action at kab.org.
About The Coca-Cola Foundation
The Coca-Cola Foundation is the global philanthropic arm of The Coca-Cola Company. Since its inception in 1984, the Foundation has awarded more than $830 million in grants to support sustainable community initiatives around the world. For more information about The Coca-Cola Foundation, please visit www.coca-colagivingback.com.
About The Coca-Cola Company
The Coca-Cola Company (NYSE: KO) is the world's largest total beverage company, offering over 500 brands to people in more than 200 countries. Of our 21 billion-dollar brands, 19 are available in lower- and no-sugar options to help people everywhere more easily control added sugar. In addition to our namesake Coca-Cola drinks, some of our household names around the world include: AdeS soy-based beverages, Ayataka green tea, Dasani waters, Del Valle juices and nectars, Fanta, Georgia coffee, Gold Peak teas and coffees, Honest Tea, Minute Maid juices, Powerade sports drinks, Simply juices, smartwater, Sprite, vitaminwater and Zico coconut water. At Coca-Cola, we're serious about making positive contributions to our world. That starts with reducing sugar in our drinks and bringing new and different drinks to people everywhere. It also means continuously working to reduce our environmental impact, creating rewarding careers for our associates, and bringing economic opportunity wherever we operate. In fact, together with our bottling partners, we employ more than 700,000 people around the world. For more information, visit our digital magazine Coca-Cola Journey at www.coca-colacompany.com and follow The Coca-Cola Company on Twitter, Instagram, Facebook and LinkedIn.
###
 Additional Contacts
Kirsten Witt
Coca-Cola North America
Email: Kiwitt@coca-cola.com
Emily White
Keep America Beautiful
Tel: 203.659.3004
Email: ewhite@kab.org