University of Iowa named a Silver Bicycle Friendly University by the League of American Bicyclists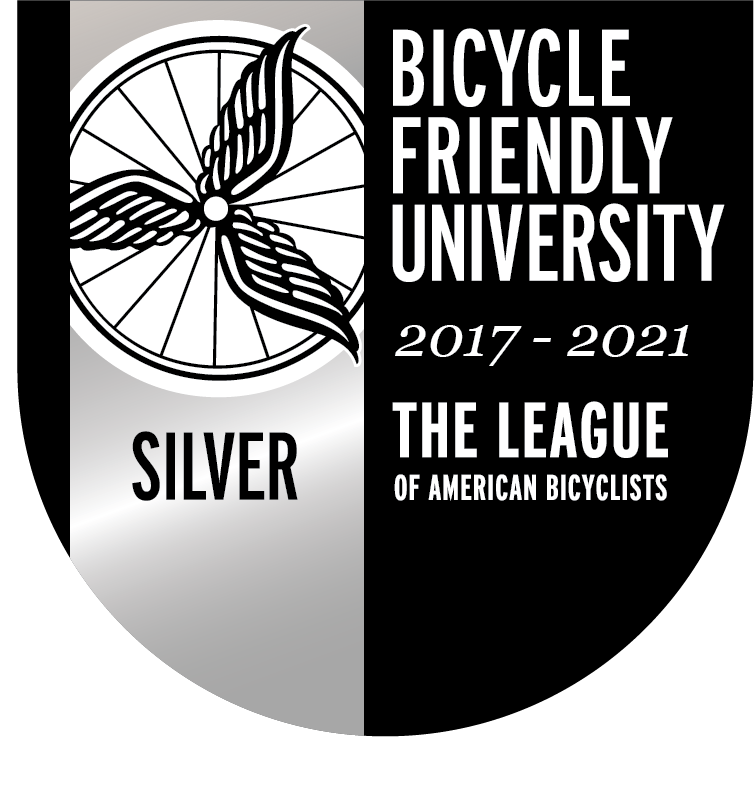 The League of American Bicyclists recognized the University of Iowa for the second time with a Silver Bicycle Friendly University (BFU) award. The University of Iowa is the only university in Iowa to earn the Bicycle Friendly University designation.
With the announcement of 46 new and renewing BFUs, the University of Iowa is among a cutting-edge group of colleges and universities across the United States that are transforming their campuses and the communities around them. There are now 182 Bicycle Friendly Universities in 45 states and Washington, D.C. 
"We are honored to receive the Silver Bike Friendly University designation. The League of American Bicyclists have been a great partner in continuing to improve our efforts on campus. The designation reflects hard work from many different departments on campus, our students and faculty, and the Bicycle Advisory Committee," said Sara Maples, interim director of the UI Office of Sustainability.
Many University of Iowa students, faculty and staff rely on bicycling to and from campus as an affordable and healthy means of transportation. The UI supports bicycling by providing amenities such as eight bike repair stations and sponsoring check-up events to support safe bicycling. 
"Bicycling is an important transportation option for students who need to cut costs to pay for their education and for those who want to limit their impact on the environment. I appreciate the University of Iowa's efforts to achieve the Bicycle Friendly status, and I look forward to working with campus partners to advance campus bikeability in future years," said Jacob Simpson, president of University of Iowa Student Government.
"Parking for vehicles is in high demand, so providing amenities and assisting persons in choosing bicycling as a transportation mode just makes sense" added Michelle Ribble, commuter programs manager at UI Parking and Transportation. 
The League's BFU application evaluates applicants' efforts to promote bicycling in five primary areas: engineering, encouragement, education, enforcement and evaluation/planning.  To complete the application, the Office of Sustainability worked with campus partners such as Parking and Transportation, Campus Planning, the Bicycle Advisory Committee, the School of Urban and Regional Planning, Recreational Services, UI Student Government, Facilities Management, Public Safety, the Hank Virtual Environments Lab, College of Public Health and others to promote and support bicycling on campus. Community groups such as Think Bicycles, the Iowa City Bike Library and the Iowa City Cycling Club have also supported the bicycle-friendly effort.
 The Iowa City Bike Master Plan and the university's comprehensive plan will expand bike connectivity, safety, and networks.
Looking ahead, a team lead by UI Campus Planning is creating a comprehensive bike plan to expand bikeway infrastructure, improve city/university connectivity and increase bike education. The UI, in concert with the city, will work to garner resources, community support, advocacy, and stakeholder participation to adopt and implement initial phases of the plan, said UI Campus Planner Joe Bilotta. 
The UI will maintain its award through 2021.To see a list of all current BFUs and a list of 2017 awardees, visit the League online at www.bikeleague.org/university, which also describes the application process and award criteria.
Contacts:
Sara Maples, Interim Director, UI Office of Sustainability, 319-335-5516
Michelle Ribble, Commuter programs manager, UI Parking and Transportation, 319-384-4457
Joe Bilotta, UI Campus Planner, 319-335-3887