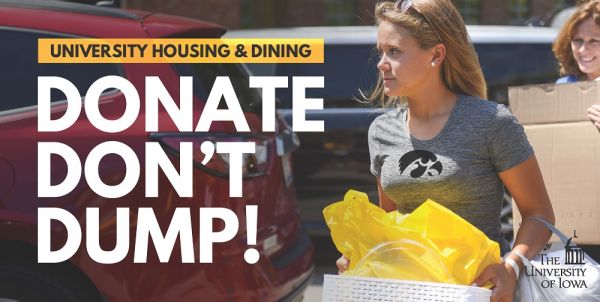 As you begin packing up your belongings, set aside a box or bag to collect items you no longer want or need.  Check to see if those items can be donated to one of our partner organizations.  If they can, take your donations to the designated collection area nearest you.  If your items are not able to be donated, please dispose of them properly.  Extra trash and recycling dumpsters will be staged near each residence hall during the week of move-out.
Donation Locations & Schedule
DATE
DONATION PARTNERS

Goodwill/Salvation Army Donations

Use collection carts in residence hall lobbies (24/7)

CommUnity Donations

Use collection barrels in residence hall lobbies (24/7)
---
For questions, or to learn more about Donate Don't Dump, please contact Beth MacKenzie elizabeth-k-mackenzie@uiowa.edu.