The University of Iowa has set a goal to divert at least 60% of our waste from the landfill by 2020.  To achieve this goal, we must all work together to recycle as much as possible, as well as reduce the amount of waste we generate in the first place.
FY 2017 Campus Diversion
| | | |
| --- | --- | --- |
| Campus Diversion Rate | Total Pounds Recycled/Diverted | Total Pounds Landfilled |
| 38% | 7,505,992 | 12,423,254 |
---
Waste Audits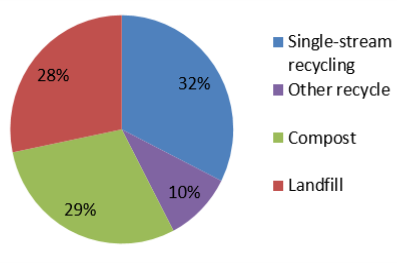 A waste audit is an event where the contents of a building's trash is examined in order to understand what's being thrown away and what the potential is for diversion.  Audits provide great engagement opportunities with building occupants, both during the audit and afterward with detailed results. 
Audits conducted over the past 3 years give a good look at what the UI is throwing into the trash.
The pie chart shows a nearly 1/3 split between single-stream recycling, organics, and trash. A small portion of items, "other recycling," are plastic bags and glass, items which are not acceptable in single-stream. All in all, this means roughly 75% of what's in our trash doesn't need to be there.
If you'd like to host a waste audit in your building, contact recycle@uiowa.edu.
---
Recycling's Impact                                       
Waste diversion is part of our social fabric at the UI--what it means to be a Hawkeye. We value keeping resources out of the landfill through reducing, reusing, recycling, and composting.
You: You can take action and be an agent of change. Whether it's learning the basics of recycling, competing in RecycleMania with your friends, or encouraging your department to move further, you are part of the UI's 2020 Vision for Sustainability and can make an impact. For many students, recycling is the gateway into sustainability, leadership, and service at the UI.
The University: The University values waste diversion as part of a greater pursuit of sustainability. Committed to global citizenship, stewardship of resources, and preparing leaders for tomorrow, recycling and reducing waste are aligned with these priorities.
City of Iowa City: The City of Iowa City is committed to recycling and waste reduction and is an important partner to the University of Iowa. In 2011, a study of the landfill was conducted to understand what materials are landfilled each year. The results were illuminating. Over $1.5 million worth of resources (could be recycled) are trashed each year.
State of Iowa: Recycling is good for the economy. In 2011, the recycling industry supported 11,400 jobs in Iowa.
Jobs supported:  Compared to landfilling resources, recycling and reusing create far more jobs. 
10,000 ton of paper recycled = 18 jobs
10,000 tons of plastic recycled = 93 jobs
10,000 tons of clothes reused = 85 jobs
10,000 tons of landfilled materials = 1 job
Energy, water, and climate change:  A product created out of recycled material uses less energy than one made out of raw materials. When energy's conserved, water is conserved, and climate change is mitigated.
Energy saved when manufacturing using recycled material versus virgin:
Aluminum - 95%
Cardboard - 24%
Paper - 40%
Plastics - 70%
Steel - 60%
The Cardboard Ban and Its Impact to Campus

The City of Iowa City has voted to ban all cardboard...
What Is Tiny Trash?

Tiny Trash is a program that is being implemented in buildings across campus.  Participants in Tiny Trash trade in their desk-...