The Cardboard Ban and Its Impact to Campus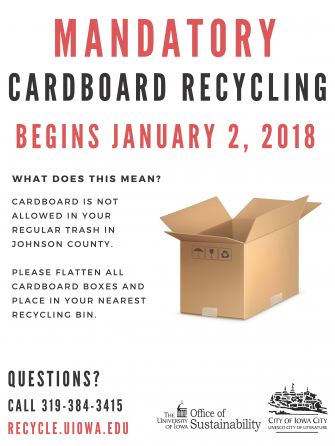 The City of Iowa City has voted to ban all cardboard from any waste hauled to the landfill by UI waste haulers, residents, businesses and commercial haulers. Beginning January 2, 2018, we will be fined for contaminated loads, at double the normal tipping fee. This could have a big impact on the UI, our costs of operation and what happens with recycling and trash in the buildings. We are working with Building Coordinators and campus stakeholders to create systems, solutions and educational material that will keep cardboard from entering the UI waste stream, including:
Increasing recycling collection frequency in high-volume buildings
Ensuring docks are clear for our recycling hauler to access dumpsters
Communicating with the City of Iowa City to identify cardboard in loads UI sends to the landfill
Educating staff, students, and faculty about how to properly recycle cardboard (see resources below)
Resources
Download digital graphics and share them using your electronic kiosks, departmental intranet, newsletter, social media, etc.
FAQ's
Q:  Why is the City of Iowa City banning Cardboard from the Landfill?
A: According to the 2011 waste characterization study, about 12% of what goes into the Iowa City Landfill is cardboard.  That's about 15,000 tons a year!  That's a lot of valuable material taking up valuable space, a double waste!  Considering the lost market value of recyclable cardboard going into the landfill and the costs of putting it into the landfill, the City estimates that over $2 million/year is lost by landfilling cardboard.
Q: When does enforcement start and what does it mean to the University?
A: Enforcement begins January 2, 2018. Landfill staff will start monitoring loads in November as a "soft rollout" and give haulers a heads-up that beginning in January they will be charged at twice the regular trash rate for loads contaminated with cardboard.  Spotters will be checking incoming loads. Any loads after January 1 with any discernable amount of cardboard will be charged twice the regular tipping fee, which is currently $47.50 for the UI and commercial haulers.  Therefore, if our UI trash is contaminated with cardboard, we will be charged $95 per ton for the contaminated load. These costs will ultimately be billed to the University, which we expect will impact charge-out rates.
Q: Who is covered by the Iowa City Landfill ban?
A: Besides the University of Iowa campus, all businesses and residents in the area, which includes all cities and rural pickup in Johnson County and the cities of Kalona and Riverside.
Q: What kinds of cardboard are covered by this ban?
A: The ban covers what is known in the industry as "OCC" or Old Corrugated Cardboard.  That is basically any cardboard with the corrugated ripple wafer layer in between, or the standard box material used for nearly all shipping and packing today, and many other uses. To avoid the penalty fee, cardboard should be placed in recycling bins instead of trash bins.  For recycling, the boxes should be clean and free of contamination, such as plastic film wrap, Styrofoam, or any food. Packing tape on boxes is okay.  Cardboard boxes should be broken down, flattened and placed in the recycling bin.
Q: Will we be fined for pizza boxes in the trash?
A:  No.  Although pizza boxes are recyclable, because of the greasy nature of the box bottoms, they will likely be exempted from the ban.  We will continue to educate the campus that it is easy to tear off the box top and recycle it, and throw away the greasy bottom.
Q: How soon will the University educate the campus?
A: We are starting now, by letting you know this is coming soon, as early as November 1, 2017, for the soft roll-out period.  We will be working with the new IC Recycle Coordinator and Resource Management Coordinator for the City, and you and other stakeholders to provide a campus-wide educational campaign. We are already working with our recycle hauler, Waste Management, to create more frequent recycle pickups. Your feedback, questions and suggestions will be very helpful in creating the marketing messages.
 What Can I Do to Help?
All waste and recycling in our campus buildings is generated by building occupants.  From greasy pizza boxes to shipping and delivery boxes.  Custodians and trash haulers do not control what goes into the trash or recycle; they simply haul it away. Everyone, students, faculty and staff will have to help with the cardboard ban by ensuring that cardboard is recycled and not thrown into the trash. Building Coordinators can help by sharing information with building occupants, reporting overflowing recycling dumpsters, and ensuring docks are clear for recycling collection.