Celebrate Earth Month 2015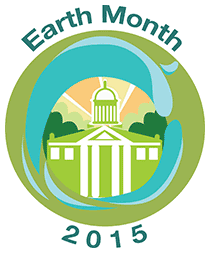 This April, the Office of Sustainability invites you to celebrate the culture of sustainability during Earth Month at the University of Iowa.
The office is joining with several departments and student groups to present a series of activities and events that will help participants gain a greater understanding of sustainability and environmental issues.
Ongoing activities throughout the month of April include the Earth Month Bike Challenge, a competition to encourage bike commuting on campus, and the Greek Energy Challenge, where fraternities and sororities monitor energy bills to reduce energy waste. Students in Introduction to Environmental Science classes and other groups will be working on service projects such as garlic mustard removal, tree seedling planting and prairie planting.
A full list of events can be found at the UI Earth Month website. A sampling follows:
Feeding the World: Challenges for Water Quality and Quantity Symposium, 8 a.m. – 5 p.m., Thursday, April 9, Old Brick. UI's "Food for Thought" theme semester continues with a special session on food production, agriculture, and water quality, presented by the Public Policy Center and UI Water Sustainability Initiative.
Iowa Climate Festival, 9 a.m. – 12 p.m., Saturday, April 11, MacBride Hall Museum of Natural History. Learn the basics of climate science at this one day symposium. Judging for the City of Iowa City Recycling logo competition will take place at 3 p.m.
Taste Testing, 11 a.m. – 3 p.m., Tuesday, April 14, T. Anne Cleary Walkway. Test your taste buds (Dasani or tap?) with Take Back the Tap, and sign a petition to ban plastic water bottles on campus.
Feed Your Future panel discussion, 3-4:40 p.m. Friday April 17, Iowa City Public Library. The discussion will focus on career opportunties in the local food movement.
Bike Tune Up, 2 p.m. – 4 p.m., Friday, April 24, UI Pentacrest. Bring your bike for a tune-up, enjoy a smoothie by World of Bike's pedal-powered blender, and mingle with other bike enthusiasts in Iowa City—including the new recreational bike club, UI Bike Friends.
Student Garden Open House, 1 p.m. – 5 p.m., Sunday, April 26, UI Student Garden (off of Hawkeye Park Road). Join students and community members for the garden's open house and day of service. Tours, workshops, and potluck dinner are all on the agenda.
Sustainability Celebration, 3 p.m. – 5 p.m., Tuesday, April 28, 2520D University Capitol Centre. Celebrate sustainability projects and progress at this culmination of Earth Month events. There will also be a wrap-up of RecycleMania.
Funk, Friends, Farm: An Earth Month Send-off Event, 8 p.m., Thursday, April 30, The Mill. Listen to performances by Lyle Smithe, Mobile Sweaters, Addison Payne, Alpha bet, Soul phlegm, and Eric Holthaus. Doors open at 7 p.m. and the cost is $4.
A calendar with these events can be downloaded and printed at http://sustainability.uiowa.edu//sites/sustainability.uiowa.edu/files/Earth-Month-2015.pdf
Earth Month is also a great time to become an Eco Hawk and be a change agent for sustainability on campus and beyond.  Learn more and sign up at http://sustainability.uiowa.edu/take-action/eco-hawks/.
Like the Office of Sustainability Facebook  page and follow on Twitter @UIsustainable. Use the hashtag #UIearthmonth to track what's happening and contribute to the festivities!
Individuals with disabilities are encouraged to attend all UI-sponsored events. If you are a person with a disability who requires a reasonable accommodation in order to participate in any of these programs, contact George McCrory in advance at george-mccrory@uiowa.edu or 319-335-5517.