Press Citizen: Rooftop Roots Grow Deeper at UI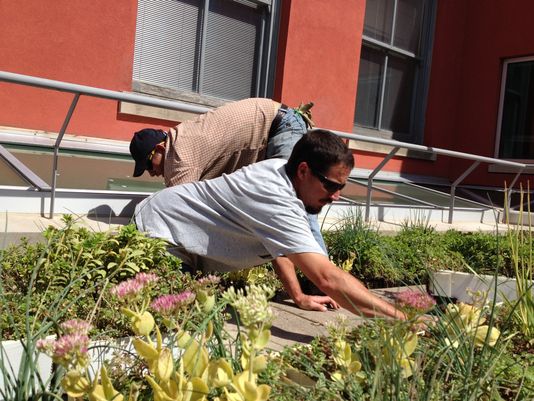 By Chase Castle, Iowa City Press Citizen
The University of Iowa College of Engineering just got a little bit greener.
Various flowers and plant life were installed Friday at the Seamans Center for the Engineering Arts and Sciences along the perimeter of the rooftop terrace on the fourth floor.
Alec Scranton, dean of the college of engineering, said the rooftop's "eco-friendly" terrace was conceived by civil engineering students, who were challenged to re-imagine the space, which includes sedum plantings and an irrigation system.
"The terrace now provides a more welcoming environment for study and quiet time in a peaceful outdoor setting," Scranton said in an email. "I'm sure it's fun for the students to see their design come to life."
Associates with the project said that beyond making the terrace more attractive, the plants help absorb rainwater that can collect pollutants that end up in groundwater.
"It's going to vary how much you're going to retain, but it's obviously going to help," said Teresa Nelson of Davenport-based Rooftop Sedums, which grew the plants in pre-vegetated modules before transporting them to Iowa City. "The more you can keep water on the site or individual sites, the less it's going to come down the storm sewers and eventually into the streams and flooding."
The addition of roughly 380 square foot garden life is only the most recent touch of green added to rooftops around UI.
Installation of more than 6,400 square feet of plants started at the new Pappajohn Biomedical Discovery Building on UI's medical campus as part of the 256,000 square-foot facility's multi-level "green" roof. An even larger green roof is planned as part of the five-story $77 million university art building scheduled to be completed in 2016.
The plants that were set included pastels, rudbeckias or black-eyed susans, liatris, alliums and other perennials, some of which were left over from the Pappajohn project.
Nelson said green rooftops do stand to decrease cooling costs by absorbing heat more efficiently than hard surfaces, but the savings are difficult to project, especially for the terrace greenery which covers just a fraction of the terrace's surface.
"Depending on where you're at in the United States (and) what your climate conditions are, it varies widely."
Reach Chase Castle at ccastle@press-citizen.com or (319)-887-5412.
To view the original story, please click here.
Related News
By Lauren Arzbaecher. Originally published via...

By Rylee Wilson. Originally published via The...