Why care about food waste?
University of Iowa's 20/20 goals include decreasing the production of waste to achieve 60% waste diversion by 2020. Reducing food waste is essential to reach that goal. According to 2012 Natural Resources Defense Council report, Americans trash 40 percent of our food supply every year, valued at about $165 billion. Just a 15 percent reduction of losses in the US food supply would save enough food to feed 25 million Americans annually. Reducing the food mass in our landfills would have significant economic, social, and environmental befits.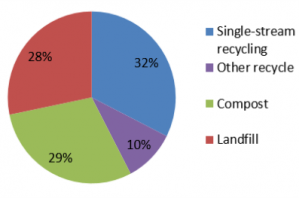 Results from University of Iowa's 2014 Waste Audit show that 29% of the University of Iowa's waste could be prevented by composting.
The environmental benefits of reducing food waste include reducing the amount of methane in landfills, reducing resource use associated with food production, improving soil health and structure, increasing drought resistance, reducing the need for supplemental water, fertilizers, and pesticides, as well as improving sanitation, public safety, and health. Food waste can also be turned into renewable energy and a soil amendment through anaerobic digestion.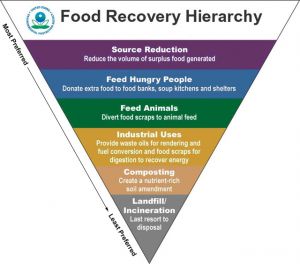 The economic benefits of reducing food waste include reducing disposal costs, over-purchasing, and labor costs as well as receiving tax benefits from donating food. The first step in the food recovery hierarchy, source reduction by reducing the volume of surplus food generated, also saves unnecessary money and resources from being used.
The social benefits of reducing food waste include having the opportunity to feed more people instead of feeding landfills. An estimated 50 million Americans do not have access to enough food. Organizations can donate safe and healthy food to a food bank or food rescue organization and both reduce food sent to landfills and feed those in need.

UI Dining Composting
In 2007, the University of Iowa and the Iowa City Landfill Recycling Center began a pre-consumer food waste composting pilot project that has since grown into a University-funded program composting over 80 tons of food waste. The original study and pilot were initiated by a student research project for Prof. Jerry Schnoor's class, Engineering for a Sustainable World.
Each semester, about 12 tons of food waste from Hillcrest and Burge dining halls is composted with other organic waste at the Iowa City Landfill and Recycling Center. When the compost is ready, some is returned to campus as a soil amendment for the Student Garden and the rest is sold to the public as one component of Iowa City Community Compost.
University Dining currently composts over 200 pounds of food every year.
University Dining locations that practice pre-consumer composting include the IMU River Room, Burge, Hillcrest, and 7 UIHC locations.
University Dining locations that practice post-consumer composting include Hillcrest, Burge and Catlett.
Reducing Food Waste At Home
See Food: Too Good To Waste strategies from the City of Iowa City:
More Resources
EPA Sustainable Managment of Food