New bike lanes improve commute to University of Iowa campus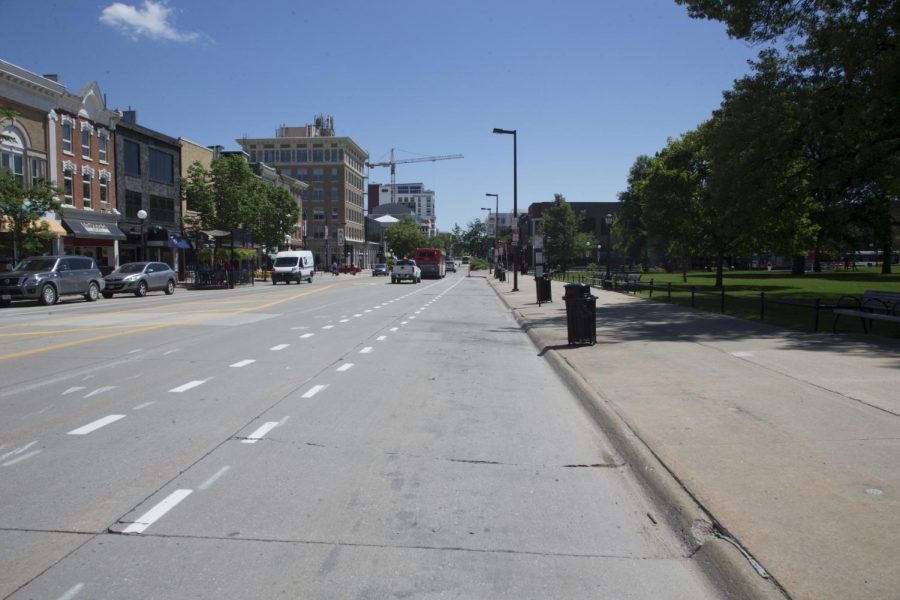 Written by Rylee Wilson. Originally published via The Daily Iowan.
Bicycling downtown can be intimidating — while cyclists can be ticketed for riding on sidewalks, heavy traffic can make it difficult to ride on the streets.
New bike lanes will now run the length of Clinton Street downtown, providing a designated area for cyclists to ride safely. Clinton Street, previously a four-lane road with two lanes for traffic in each direction, now has a single lane of traffic in each direction with a center turn lane.
City engineer Jason Reichart said the Clinton Street bikeways were added as part of a plan to re-mark the street to add a turn lane.
Reichart said he noticed that the lanes, completed June 4, were used by cyclists immediately.
"I typically feel like once we paint bike lanes, the bikers are more visible," he said. "I have noticed a lot of people using them already, so that's always good to see."
The addition of the Clinton Street bike lanes is part of Iowa City's bicycle master plan, adopted in 2017. The strategic plan focuses on improving the network for bicycles in Iowa City and encouraging people to cycle. The plan includes more than 100 miles of recommended bikeways, with 72 miles of on-street bike lanes and 28 miles of off-street pathways and trails. The city's eventual goal is to certify the town as a Gold-Level Bicycle Friendly Community.
Sarah Walz, a city assistant transportation planner, said upcoming bike-lane projects include the addition of bikeways on Dodge Street later this year, as well as additional improvements to existing bike lanes. A bike lane on Governor Street was completed earlier this year.
"I think the ones you can look forward to [as students] in the next couple years are Madison Street; there [also] might be additional improvements to Market and Jefferson," Walz said. "Those would be the big ones that students on the East Side of the river would experience."
Reichart said re-marking for bike lanes on Burlington and Madison Streets will likely occur after the UI has finished construction on the new Stanley Art Museum and steam-tunnel construction.
Elizabeth Hubing, the president of Think Bicycles Johnson County, said bike lanes provide bicyclists with visibility and safety.
"There are a lot of cars and cyclists that go on [Clinton and Governor Streets]," she said. "Previously, we've never had a designated area for cyclists, so it's been a little bit more intimidating for people to ride on those roads. When you don't have any lines, people aren't aware of bikes being in the area."
Hubing said the addition of Clinton Street is particularly important in handling traffic to the UI campus.
"Clinton Street is such a big street because it's right next to the UI and downtown Iowa City," Hubing said. "It's heavily trafficked by people biking to work but also students — [bike lanes] really help keep people off of the sidewalks. A lot of people don't feel comfortable biking on streets in general, so when you have that lane, they're a lot more comfortable with it."
Walz said Gilbert Street is also being studied as a potential site for a bike lane, which Hubing believes would be an important addition to the city's bike network.
"I think that would be a huge addition," she said. "With the current development of the Riverfront Crossings area, there are more people who want to go over there, and there's not a super-safe way to get there from the downtown area. So having a bike lane there would be major."
Related News
Barry Schreier, director of the campus University of Iowa Counseling Service, left Iowa City on for Northport Wisconsin on his bike on July 25....

The Winter Warrior Challenge was created to demonstrate bicycling is not only possible, it can be fun — even in winter.

One hundred twenty...

Check out these tips from Little Village Magazine on how to bike safely through the winter.

More great coverage on the League of American Bicyclists Silver recognition of the University of Iowa's bike friendliness.