Press Citizen: Weather won't stop UI bicyclists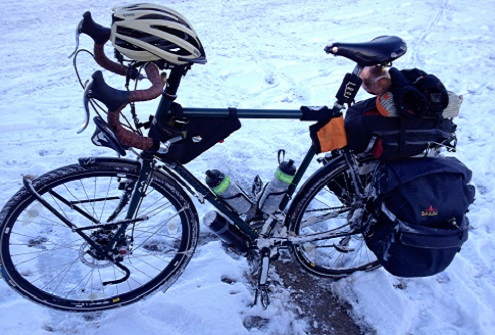 The Winter Warrior Challenge was created to demonstrate bicycling is not only possible, it can be fun — even in winter.
One hundred twenty cyclists from the University of Iowa community registered for this year's challenge — biking as much as they can during the first three weeks of December.
The rules of the Winter Warrior Challenge are simple: Bike to work or class as many times a week as possible, as long as riders feel safe and comfortable. Participants submit their number of trips and miles each week at a special website and are eligible for prizes from local bike shops. Winners will be announced Tuesday.
"The Bicycle Advisory Committee at the UI started the challenge last year as fun way to reward and encourage bike commuting to class and work, showing that you can continue to safely ride in colder weather with a little preparation," said George McCrory, communications specialist for the UI Office of Sustainability. "Encouraging alternative transportation such as biking is one way we are reducing the carbon impact of transportation on campus, one of our 2020 Vision Sustainability Targets."
In 2013, nearly 200 UI students, faculty and staff participated, logging 3,176 trips and 8,249 miles, according to the Winter Warrior Challenge website. These participants helped save about 330 gallons of gas, diverted 6,635 pounds of CO2 emissions, and burned a combined 496,640 calories.
McCrory said a few riders have commented they have been riding more with the warmer weather.
"We haven't got as many photo entries in the 'most bundled' photo contest. Certainly no ice beard pics from the guys in the open photo category," he said.
According to the website, 6,243 miles have been ridden in 2,441 trips during the first two weeks of the 2014 challenge. This represents a 13.5 percent increase over 2013 miles.
"I want the challenge to raise awareness to year-round biking and dispel the notion that biking is impractical for winter commuting," said Michael Fitz, UI student and member of the UI Cycling Club. "I am participating in this year's challenge, primarily commuting on an avocado green 1973 Schwinn Varsity."
Fitz didn't participate officially last year, but rode about 250 miles through the winter months.
"Weather doesn't really affect my decision to ride because most of my riding is commuting," Fitz said.
UI student Michael Kegel, who had the most challenge trips the first week, said he wasn't planning on riding his bike for the last month or so before winter break due to usually having snow on the ground by now.
"It probably wouldn't be very safe to bike on icy roads. But, as the weather has been very mild and warm for this time of year, I have ridden my bike all the way up until now," Kegel said.
The key to winter bicycling is to take a few easy steps to make the most of those months. The UI Office of Sustainability maintains a website that outlines the important of protective clothing and gear, selection of equipment and safe biking in varied weather conditions at http://sustainability.uiowa.edu/winter-warrior-challenge-2014/tips-for-w....
"I am participating in the Winter Warrior Challenge for the first time," Kegel said. "I have been riding my bike six or seven times a day on average this school year, even before the challenge. I think it is the fastest, easiest and most environmentally considerate way to get around."
"I have heard from a few participants who say they ride to work year round, which really shows the dedication to bike commuting in the Iowa City/Coralville area," McCrory said. "The Winter Warrior Challenge is just one small way we are helping to promote a bike friendly campus and community."
by Paul Deaton
Related News
Barry Schreier, director of the campus University of Iowa Counseling Service, left Iowa City on for Northport Wisconsin on his bike on July 25....

Written by Rylee Wilson. Originally published via...

Check out these tips from Little Village Magazine on how to bike safely through the winter.

More great coverage on the League of American Bicyclists Silver recognition of the University of Iowa's bike friendliness.