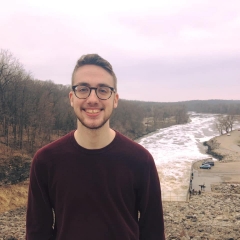 My background: 
I'm a senior studying environmental policy and planning. I'm originally from Downers Grove, Illinois, but became a resident of the great state of Iowa in 2018. I have worked for the Office of Sustainability since March 2019. I'm working on developing a collection of sustainability course project templates for student use, creating strategies for engaging students with environmental opportunities, and researching sustainable procurement. I will be working on the 2020 goals reporting and GIS. My interests are renewable energy, state parks, hiking, iced coffee, and country music.
Why I'm passionate about sustainability:
Responsibly managing our resources in a way that allows future generations to enjoy similar or better qualities of life is important to me. I also think it provides a productive framework for approaching problem solving across various industries. It's an exciting field to be a part of and can be applied in many different professions.
Contact me for information about:
Project ideas and advice, volunteering/environmental opportunities across the state, EPPL/academics